Lynda Carter Wonder Woman Statue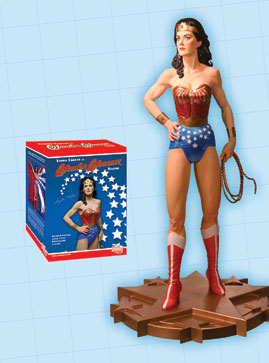 click to see larger image
August 2006 - DC Direct

WONDER WOMAN LYNDA CARTER STATUE

No one embodies the spirit and beauty of Wonder Woman more than Lynda Carter, the actress who portrayed her on the beloved television series! She will forever be the vision forged in a generation's memory as the quintessential Wonder Woman. For the first time ever, DC Direct has teamed up with Lynda Carter to bring you a must-have piece to every fan's Wonder Woman collection. This limited edition, hand-painted cold-cast porcelain statue is packaged in a four-color box, includes a four-color Certificate of Authenticity and measures approximately 13" high x 7.5" wide x 7.5" deep. Don't miss out on this one-of-a-kind collectible!

Advance solicited; on sale April 4, 2007
Statue
$195.00 U.S.

Please note: the WONDER WOMAN LYNDA CARTER STATUE is available only in the U.S., Canada, the U.K., France, Australia and Japan.