McDonald's Pirates of the Caribbean Toys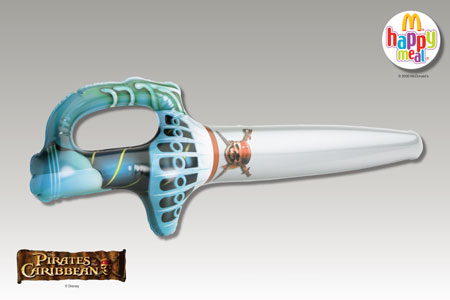 Inflatable Pirate Sword
McDONALD'S® MARKS THE SPOT FOR HIDDEN TREASURE THIS SUMMER

McDonald's "Summer of Happy Meal® Fun" Line-up Offers Make-Believe Adventure Inspired by Disney's Pirates of the Caribbean Theme Park Attraction - July 7 through August 3, 2006

Plush Pirate
Oak Brook, Ill., July 6, 2006 - Ships ahoy! McDonald's is setting a course for the seven seas with a Happy Meal and Mighty Kids Meal® event inspired by Disney's Pirates of the Caribbean theme park attraction. Beginning July 7 - August 3, 2006, with the purchase of a Happy Meal or Mighty Kids Meal, young mateys will receive one of eight adventurous toys for perfect pirate make-believe, at participating McDonald's restaurants, while supplies last.

Pirate Bandana
To celebrate this adventurous Happy Meal event, McDonald's is offering families the chance to create lifelong memories in the Search for the Golden Treasure Happy Meal Game. With winning game pieces randomly found inside McDonald's Happy Meals, 25 lucky buccaneers will have the chance to win a trip for four to experience new pirates and more adventure on the Pirates of the Caribbean attraction at the Walt Disney World® Resort in Florida or Disneyland® Resort in California. Complete details and official contest rules are available inside participating McDonald's restaurants or at www.mcdonalds.com.

Pirates Adventure Journal
McDonald's Happy Meal and Mighty Kids Meal line-up featuring Disney's Pirates of the Caribbean attraction is taking the "Summer of Happy Meal Fun" into uncharted waters filled with plenty of playtime fun. The Pirate Bandana and Inflatable Pirate Sword toys are must-haves for authentic pirate make-believe, and the Skull Telescope features a red light-up eye perfect for spotting offshore adventure. The "Aye" Ball is the perfect pirate companion - shake the skull and ask a yes or no question to learn the answer in fun pirate language. Pirate and Skeleton are 5-inch plush characters that make terrific first mates, and the Pirates Adventure Journal will make sure no high-sea voyage goes unrecorded. Rounding out the Pirates of the Caribbean Happy Meal adventure is a secret Treasure Chest. This antique-finish chest features a separate key and exciting tattoos and stickers inside - a fun reward to any Happy Meal pirate adventure.

Plush Skeleton
McDonald's guests have the opportunity to enjoy a variety of food choices with their Happy Meals and Mighty Kids Meals including Apple Dippers (fresh, peeled apple slices) served with low-fat caramel dipping sauce, and beverage choices including 100% pure Minute Maid apple juice and low-fat white and chocolate Milk Jugs, served in easy to handle containers.

Skull Telescope
About McDonald's
McDonald's USA, LLC, is the leading foodservice provider in the United States serving a variety of wholesome foods made from quality ingredients to millions of customers every day. More than 80 percent of McDonald's 13,700 U.S. restaurants are independently owned and operated by local franchisees. For more information about McDonald's visit www.mcdonalds.com.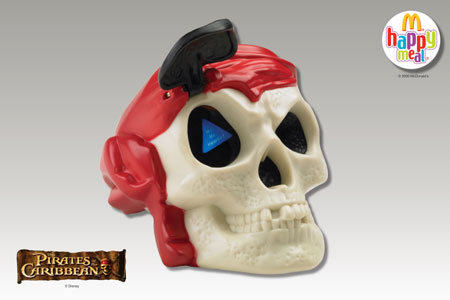 The "Aye" Ball
Treasure Chest