Superman Cover to Cover: Superman #53 Statue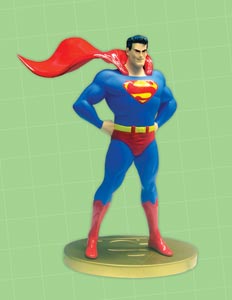 click to see larger image
March 2006 - DC Direct

SUPERMAN COVER TO COVER: SUPERMAN #53 STATUE
Based on art by Wayne Boring
Sculpted by John Cleary

Continuing the series of affordably priced statues featuring a classic Superman cover. The Man of Steel stands tall in this patriotic statue, ready to protect the citizens of Metropolis. This limited edition, hand-painted cold-cast porcelain statue measures approximately 8" tall x 4.75" wide x 3" deep and is packaged in a 4-color box.

Advance-solicited; on sale November 15, 2006
Statue
$55.00 US

CONTINUING THE POPULAR LINE OF SUPERMAN STATUES

Collect all the Classic Superman Cover to Cover Statues!

Superman C2C - Special '83 8/16/06 JAN060410
Superman C2C - Superman #24 5/3/06 OCT050343
(Relist) Superman C2C - Superman #1 2/1/06 JUN050462