eBay Collector Profile: Action Figures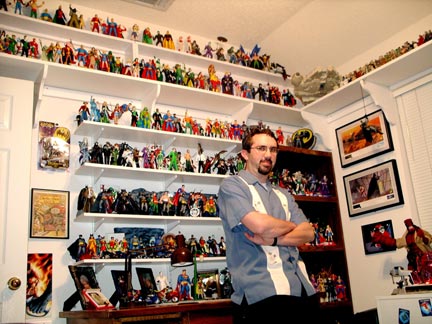 Lights, Camera, Action (Figures)
Cason Pilliod collects and handcrafts action figures
December 2005 - Cason Pilliod, a graphic design artist in Plano, Texas, may be no Andy Stitzer (actor Steve Carrell's character from The 40 Year Old Virgin, which comes out on DVD Dec. 13), but his collection of action figures is just as impressive.

In the film, Andy decides to sell his action figure collection on eBay, but in real-life, Cason has also worked from another end - buying and custom designing action figures. With a background in theatrical set and prop making, he has been able to apply his skills to create action figures as good as the manufactured variety.

Cason is a long time enthusiast of action figures and other toys, and has been collecting items for nearly 25 years, eight of which have been through eBay. Since discovering eBay in 1998, Cason adds between five and twenty new figures to his collection each month, and now owns close to 2,000 action figures, down from his high of 4,000 at one point.

Perhaps it was the recurring dream he had as a child, in which he lived in a toy store, but ever since, Cason has been collecting toys. Cason is primarily interested in DC super heroes such as Batman and Superman. "Batman was always my favorite costumed crusader," said Cason. "I rediscovered the character, and his 65 years worth of stories, through Batman: The Animated Series in 1992, and I've been collecting DC figures in earnest since then." His collection also includes vintage Star Wars pieces from his childhood. In addition, he customizes his own figures as a hobby, which gives his collection a healthy growth rate.

One of the most exciting things about collecting for Cason is the ability to customize his own pieces. Some of his favorite figurines are those he has done as cake-toppers for the weddings of friends and family, including one he created for his own wedding. He stated, "Such things are inherently personalized, and the happy couple is thrilled to get them as mementos of their big day."

A variety of toys, figurines, and statues can be found throughout Cason's home. Describing Cason's collection as vast would not do it justice. In fact, several walls within his home are covered with figurines. "I played with my toys as a kid, I was never particularly rough on them, and enjoyed keeping them organized and on display. Not much has changed!" Today, his displays are organized by style, genre, and scale. Most of his action figures find their homes in offices and bedrooms, while high-end statues are displayed in the main living room.

While most of the figurines cost anywhere from $12-$18 dollars, statues tend to run anywhere from $50 and upwards. A few highlights of Cason's collection include a near-complete collection of DC animated superhero figures (70% of which Cason custom designed), Rankin-Bass holiday characters and ornaments, Lord of the Rings figurines by ToyBiz, and Transformer statues.

As a long-time collector, Cason encourages individuals to have fun with collecting. "I've known far too many people that get frustrated with distribution, case assortments, etc., and they literally take their toys and go home, leaving the hobby completely... but if you're in this for the fun of it, and can keep some perspective and patience, the payoff is in the long haul." According to Cason, the benefits to collecting are vast and often surprising. "There's a source of pride in knowing one has assembled a unique collection, regardless of size. Over time, collections become very personalized, and can reflect the life of their owners. This often results in some surprising and fun insights into the collector, as seen by the collector himself and others."

The advantages to buying and selling on eBay are numerous according to Cason. He states, "eBay is a great source for non-domestic items that are difficult to track down otherwise, and often at more reasonable prices." In addition, Cason feels eBay is reliable, accurate, and offers sellers a wide array of customers. "eBay assures me my auctions will reach the widest possible audience. A strong customer base like that is important. It's also a great barometer of value." Cason has even sold a few of his hand-crafted action figures on eBay.

His collection may not have appeared on the silver screen in The 40 Year Old Virgin, but Cason loves the idea that something he created now has a home in another state, or another country!