click to see larger image
First 4 Figures: Doom BFG scale replica

October 16, 2005 - First 4 Figures is proud to be bringing you this limited edition poly-stone mini replica version of the BFG from the Doom movie! The BFG is accurately recreated down to the smallest detail, bringing you the most realistic BFG to reality.

Fans of the movie will remember Sarge heading over to the armory and seeing the BFG for the first time. This is a non functioning model so you won't be able to blast hordes of Imps, Pinkies, Zombies etc with it! However, you will be able to impress all your friends who will surely think you've got the coolest mini replica around!

click to see larger image
Dimensions: 12 inches long
Expected shipping date: Q1 2006
Price: $79.99
Edition size: 1,500
Weight: 3 kg (approx)

Comes with a stand that to hold up the BFG. The "poles" and the screws are packed separately to minimize breakages so minimal assembly required.

This is the first in a series of mini replica weapons based from the Doom movie. As always, comes with a F4F authenticity card which will allow you to pre-order the same number for the entire series. Low numbers on a first come first serve basis so order now to guarantee a low number for the whole series!

For more information, please go to the official First 4 Figures website at http://www.first4figures.com.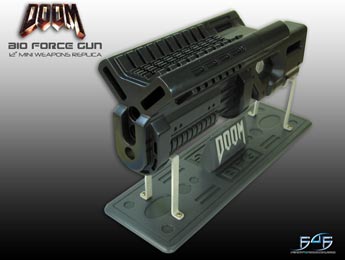 click to see larger image
About Universal Studios Consumer Products Group
Universal Studios Consumer Products Group is responsible for global licensing and retail strategies as well as building brand recognition of the extensive catalogue of NBC Universal properties. Universal Studios Consumer Products Group is a unit of NBC Universal, one of the world's leading media and entertainment companies in the development, production, and marketing of entertainment, news, and information to a global audience. Formed in May 2004 through the combining of NBC and Vivendi Universal Entertainment, NBC Universal owns and operates the No. 1 television network, the fastest-growing Spanish-language network, a valuable portfolio of news and entertainment networks, a premier motion picture company, significant television production operations, a leading television stations group, and world-renowned theme parks. NBC Universal is 80%-owned by General Electric, with 20% controlled by Vivendi Universal.

About First 4 Figures
First 4 Figures is a subsidiary of Puzzle Productions. Puzzle Productions manufactures and markets high quality resin figures under the brand name First 4 Figures. Included in its product line up includes famous licenses such as WWE, MAGIC: THE GATHERING, and TRANSFORMERS.