McDonald's: Madame Alexander & Tak
McDONALD'S® HAPPY MEALS OFFER CLASSIC COLLECTIBLES AND NEW ADVENTURES WITH MADAME ALEXANDER® AND TAK™: THE GREAT JUJU CHALLENGE
Oak Brook, Ill., September 28, 2005 – From high fashion to high action adventure, McDonald's® is bringing the cherished collection of Madame Alexander® and Nickelodeon's widely popular Tak™ video game series, published by THQ, to Happy Meals and Mighty Kids Meals nationwide.

Beginning September 30, 2005 through October 27, 2005, with the purchase of a Happy Meal® or a Mighty Kids Meal®, guests will receive one of 10 new Madame Alexander collectible dolls, or one of eight cool action figures from the hot new video game, Tak: The Great Juju Challenge. The beautifully crafted collection of Madame Alexander dolls features the first Asian doll in a Madame Alexander McDonald's Happy Meal and will be treasured by children and collectors. In addition, the exciting characters from the Tak video game series come to life for the first time in action-figure form, only at participating McDonald's restaurants nationwide, while supplies last.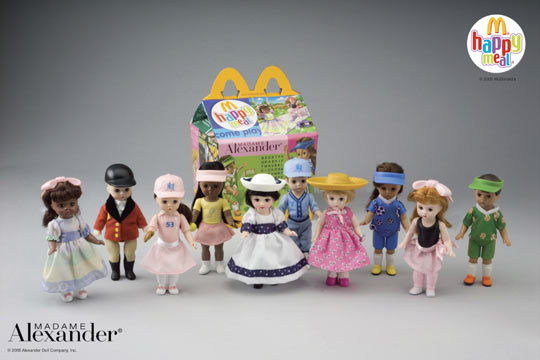 click to see an additional 11 images
McDonald's is celebrating International Doll Collectors Month (October) with a charming new line-up of Madame Alexander dolls. Featuring elaborate costumes and beautifully painted faces, this dynamic collection celebrates the active lifestyle and diversity of today's youth: the Hop, Skip, and Jump doll is ready for a game of hopscotch while the graceful Ballerina is poised for center stage. Tennis Girl is a beautiful African-American doll with a powerful serve, and Equestrian Girl is ready to ride. Kick It Girl and Kick It Boy, two charming Hispanic dolls sporting colorful soccer uniforms, are set to score the winning goal, and Team Mates Girl and Team Mates Boy are ready for a day at the ballpark. Jumping Rope, a lovely African-American doll with her own removable jump rope, brings cherished schoolyard memories to life. And for the first time, McDonald's Happy Meals and Mighty Kids Meals will feature an elegant Asian doll, Setting Sail, ready for a day at sea. Each five inch collectible doll features moveable parts, "sleep eyes" that open and close (an innovation introduced to the toy industry by Madame Alexander in the 1930s), and a miniature replica of the retail hangtag.

click to see an additional 8 images
Just in time for the September 21 launch of Tak: The Great Juju Challenge, the highly popular characters from THQ and Nickelodeon's Tak video game series are flexing, flipping and spinning their way into McDonald's Happy Meals and Mighty Kids Meals. For the first time, Tak and his friends are coming out of the video game and into the hands of children nationwide as McDonald's offers eight exciting action figures based on the popular video game.

Tak™ performs a cool side cartwheel; Lok™ features an incredible flexing ability – squeeze his arms to see his pectoral muscles flex in and out, and Tlaloc™'s face is illuminated with a spooky red light when his arms are raised. Push Jibolba™ down at his waist to see him perform an incredible backflip, and watch the mouth on Belly Juju™'s belly open and close by pushing the button on his back. Dead Juju™ makes bone-cracking sounds when his arms, legs and head are moved around, and Needles™ features a fun spinning arm motion. Rounding out this high-action collection is Pins™ – press the button on his back to activate his grabbing motion as he grabs anything he can get his arms around. Children of all ages will enjoy creating their own adventures with these action-packed figures based on some of their favorite video game characters.

With classes back in session and hectic after-school schedules, fall is the perfect time for a convenient McDonald's meal. Busy moms and dads can enjoy a refreshing break with a great-tasting Premium Salad, while young guests enjoy some of their favorite food choices along with popular collectibles and exciting video game characters with the Madame Alexander and Tak: The Great Juju Challenge McDonald's Happy Meal.

Young guests now have the opportunity to enjoy additional food choices with their Happy Meals and Mighty Kids Meals including Apple Dippers (fresh, peeled apple slices) served with low-fat caramel dipping sauce, and beverage choices including 100% pure Minute Maid apple juice and low-fat white and chocolate Milk Jugs, served in child-friendly containers. Milk Nutritional Profile and Packaging varies in California, Alaska and Hawaii.

About McDonald's
McDonald's USA, LLC, is the leading foodservice provider in the United States serving a variety of wholesome foods made from quality ingredients to millions of customers every day. More than 80 percent of McDonald's 13,700 U.S. restaurants are independently owned and operated by local franchisees. For more information about McDonald's visit www.mcdonalds.com.

About Madame Alexander
The Alexander Doll Company continues over 80 years of tradition, elegance and innovation of Madame Alexander® dolls with a full line of fine-quality, handcrafted collectible baby, play, fashion and licensed dolls. For more information about the Alexander Doll Company please visit, www.madamealexander.com.

About Nickelodeon & Viacom Consumer Products
Nickelodeon & Viacom Consumer Products (NVCP) manages the merchandise licensing, home video, music, book and interactive software businesses for Nickelodeon brands and characters as well as the properties of Comedy Central, Spike TV and MTV Networks International, as well as some non-Viacom properties. In addition, NVCP manages the merchandise, interactive, book, and wireless licensing for Paramount Pictures properties. The NVCP business represents over $4 billion in retail sales. Nickelodeon, MTV Networks, Comedy Central and Spike TV are trademarks of Viacom International Inc.

About THQ
THQ Inc. (Nasdaq: THQI) is a leading worldwide developer and publisher of interactive entertainment software. The company develops its products for all popular game systems, personal computers and wireless devices. Headquartered in Los Angeles County, California, THQ sells product through its global network of offices located in the United States, United Kingdom, France, Germany, Netherlands, Spain, Korea and Australia. More information about THQ and its products may be found at http://www.thq.com and http://www.thqwireless.com. THQ, THQ Wireless and their respective logos are trademarks and/or registered trademarks of THQ Inc.