Hot Topic Invader ZIM Series 2
The Invasion Continues!
Palisades second line of Hot Topic ZIM variants available NOW!

Elkridge, MD (September 21, 2005) - INVADER ZIM fans have been pining for new action figures, ever since the release of Palisades' first wave earlier this year. And while the second wave of regular figures will be available next month, fans in-the-know can head to Hot Topic stores for all-new figures right now.

Hot Topic's second exclusive wave of Invader ZIM action figures began to show up at Hot Topic stores a few weeks ago, and the retailer is pleased to report that sales have been swift. This second wave of exclusives features all five characters from Series 2 with newly sculpted heads, and all-new accessories.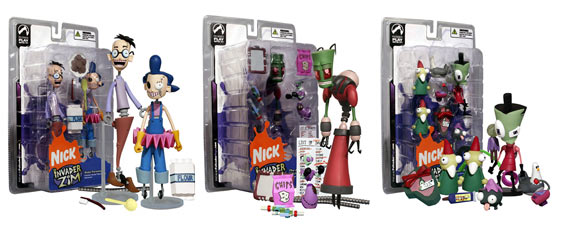 Hot Topic Series 2 includes:
Pustulio INVADER ZIM featuring Zim's enormous zit from fan-favorite episode from "Rise of the Zit Boy."
Screaming GIR, with his robot head, popping out from his "doggie disguise."
Freakout Gaz, with wide, angry eyes
Contemplative ALIMIGHTY TALLEST Red
Haywire Robo Parents from "Parent Teacher Night."
All five exclusive figures are available in Hot Topic stores, and at on-line at www.HotTopic.com, for $15.99. Supplies are limited, and they are selling quickly.

For more information on these and other fine INVADER ZIM products, please visit www.PalisadesToys.com.

ABOUT PALISADES TOYS

Palisades Marketing, LLC ("Palisades Toys") designs, manufactures, and markets a variety of collectable toy products worldwide through sales to retailers and directly to consumers. Palisades Toys believes its products are among the most highly detailed and collectable action figures, PolyStone statues, PolyStone mini busts in the world. Formed in 1994, Palisades' products are sold throughout the world at various retail outlets including Toys "R" Us, KB Toys, Target, Electronics Boutique, Tower Records, Media Play, Sam Goody, Suncoast Video, Amazon.com and a variety of domestic and international comic shops and specialty retailer stores. Palisades Toys' current product portfolio includes The Muppets, Alien, Predator, Transformers, G.I. Joe, Ren & Stimpy, Army of Darkness, Pink Panther, and others. Further information on this and all other Palisades Toys products is available via our company website at: www.PalisadesToys.com.