V for Vendetta Movie Mask Replica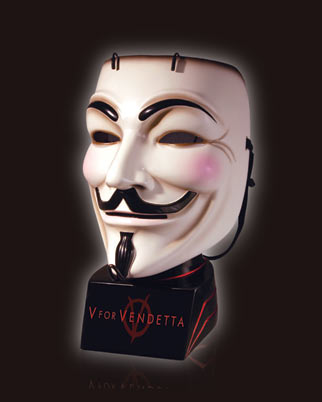 click to see larger image (38k, 644 x 804)
July 2005 - DC Direct

V FOR VENDETTA MOVIE MASK REPLICA
Set in the futuristic landscape of totalitarian Britain, V For Vendetta tells the story of a mysterious revolutionary who finds an unlikely ally in a mild-mannered young woman. The screenplay by Andy Wachowski and Larry Wachowski is based on the acclaimed graphic novel by Alan Moore (Watchmen, From Hell) and David Lloyd. Originally published by DC Comics as a 10 part series in 1988, V For Vendetta has been praised for its vision, potency and eloquence. Moore is widely considered to be one of the finest comics writers of all time, and has been credited with single-handedly expanding the potential of the comic book medium with his work.

This limited edition, hand-painted cold-cast porcelain replica measures approximately 10.5" high x 6.5" wide x 7" deep and is displayed on a sculpted base. This replica was constructed from a mold of the actual movie prop, includes a full-color Certificate of Authenticity, and is packaged in an elegant black gift box with foil stamping. Limited edition of 500.

On sale October 26, 2005
Prop Replica
$195.00 US