Neopets Plush at McDonald's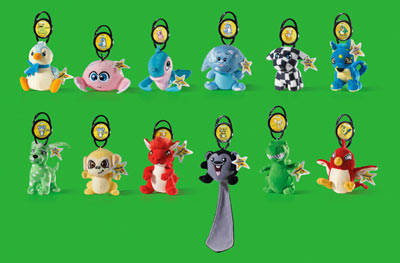 click to see larger image (70k, 800 x 526)
GLENDALE, Calif., July 8, 2005 -- McDonald's(R) is celebrating summer with refreshing food choices, cool collectibles, and hot virtual prizes. Beginning July 8 and running until August 4, 2005, twelve colorful Neopets species will make their way from the virtual world of Neopia(R), the hottest youth entertainment network on the Internet, to McDonald's Happy Meals and Mighty Kids Meals, while supplies last. This is the second annual Neopets promotion with McDonald's.

Neopets is the online interactive worldwide youth community where members can explore new worlds, play games, enter contests, and interact with each other in an entertainment environment filled with literally millions of pages of content. The McDonald's Neopets Happy Meal(R) and Mighty Kids Meal(R) collection features twelve new species of plush Neopets, available in seven different colors. Visiting the virtual world of Neopia will now be even more fun since each Neopet plushie that comes with a McDonald's Happy Meal features a unique virtual prize code, which can be entered online in exchange for exciting virtual prizes, such as "fuzzy slippers" or Neopoints. Each Neopet also includes a removable "Petpet" clip -- a cute and collectible clip of your Neopet's pet, which collectors can show off on their backpacks and purses.

"The success of last summer's Neopets and McDonald's partnership confirmed that the worlds of McDonald's and Neopia share a common environment of fun," commented Stephanie Yost Cameron, senior vice president, Neopets. "We're delighted to continue this relationship for a second year and it's our hope that McDonald's customers and Neopets fans will enjoy collecting these new plushies and virtual prizes."

McDonald's Happy Meals
McDonald's customers now have the opportunity to enjoy additional food choices with their Happy Meals and Mighty Kids Meals, including Apple Dippers (fresh, peeled apple slices) served with low-fat caramel dipping sauce, and beverage choices including 100% pure Minute Maid apple juice and low-fat white and chocolate Milk Jugs, served in child-friendly containers. Milk Nutritional Profile and Packaging varies in California, Alaska and Hawaii.

About McDonald's
McDonald's is the leading global foodservice retailer, with more than 30,000 local restaurants serving nearly 50 million people in more than 119 countries each day. Approximately 70 percent of McDonald's restaurants worldwide are owned and operated by independent, local businessmen and women.

Neopets
NeoPets, recently acquired by MTV Networks, a unit of Viacom International, Inc. owns and operates Neopets.com, the world's leading online youth community. Neopets.com, consistently ranked among the top-10 "stickiest" sites on the Web by Nielsen//NetRatings, currently has over 25 million members and generates more than 5 billion pageviews per month worldwide. The company is headquartered in Glendale, California. For additional information, visit the Neopets(R) Web site.