Central Park: Otaku Unite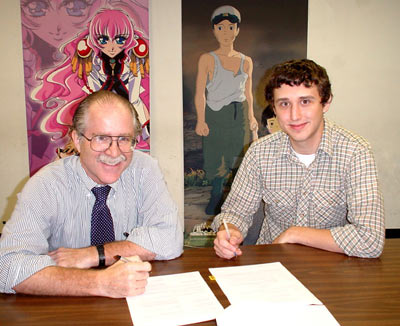 (from left to right): John O'Donnell, Managing Director of Central Park Media and Eric Bresler, Director of Otaku Unite! sign the distribution agreement.
New York, NY (June 30, 2005) – Central Park Media, America's leading supplier of Japanese anime, is proud to announce the acquisition of director Eric Bresler's acclaimed Otaku Unite!, an independent, feature-length documentary on the history of Japanese animation fandom in the United States. Otaku Unite! has already generated significant buzz, as it has been screened at numerous animation conventions in the U.S. including "Anime Expo", "Otakon" and "San Diego Comic-Con".

"With the increasing awareness for anime and its culture, many have been looking for a documentary on anime fandom," explained Bochan Kim, the Licensing and Marketing Supervisor at Central Park Media. "I cannot think of a more comprehensive and compelling introduction to anime culture than Eric Bresler's Otaku Unite!, so we are very pleased to introduce this wonderful documentary."

Otaku Unite! illustrates the sense of unity and passion among anime fans ("otaku") by covering the evolution of anime fandom from its humble beginnings to a highly visible and noteworthy mainstream audience in the United States. Otaku Unite! will be released on DVD for the first time, with extra features and never-before-seen bonus footage. CPM will announce the release date and price for this DVD at the San Diego Comic Con in July.

"After spending years working on this project, I am extremely happy to see Otaku Unite! receive a distribution offer from one of the major anime suppliers," added director Eric Bresler. "As one of the first companies to publicize anime, Central Park Media has been instrumental in building the anime fan base we cover in this documentary. I can't imagine a better company to distribute this show than CPM, whose understanding of this market is without equal."

About Eric Bresler:
Born in 1979 in Watertown, NY, Eric Bresler began his film career with Otaku Unite!. Being extremely well-known within the anime industry, Bresler interviewed major industry figures, academic experts as well as dedicated fans during the production of Otaku Unite! Bresler had initially planned to produce a 15-minute short feature, but was convinced by enthused participants that a feature-length film was more appropriate for the scope of the documentary. After two years of interviews and traveling across the country, Bresler was finally able to produce Otaku Unite!, the world's very first feature-length documentary solely dedicated to anime fandom in the United States.

About Central Park Media:
Central Park Media has been a leading supplier of anime in the United States since 1990. The company currently publishes and distributes three anime home video labels, each offering animated programming for a distinct and discriminating anime audience: U. S. Manga Corps, Central Park Media and Software Sculptors. With exclusive rights to hundreds of book, video and music products, the company has become a leader in integrated media, as well as a leading publisher of graphic novels under its CPM Press label. Central Park Media also carries a broad array of documentaries released under its CPM label, as well as live-action Asian feature films under its Asia Pulp Cinema label.