Alex Ross Justice Superman Figure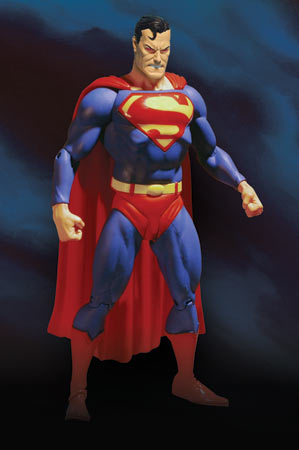 click to see larger image (53k, 598 x 900)
May 2005 - DC Direct has announced a new Superman action figure, the Justice: Superman action figure.

This version of Superman features a new head sculpt (check out the older version for comparison) and will be available to comic retailers as an incentive for their initial orders of the Justice #1 comic book. In other words, if you are interested in this version of Superman, be sure to mention it to your local comic book store to make sure that they will be ordering enough copies of Justice #1 so that they can also order the figure.

Justice #1 (painted by Alex Ross) and the Superman action figure are both scheduled to arrive in comic book stores on August 17, 2005.

In addition, DC Direct has also "relisted" the first series of Alex Ross Justice League action figures (Superman, the Flash, Bizarro, Sinestro, and Cheetah); they are scheduled to arrive in comic shops on the same date, August 17, 2005.