Pamela Drake Recalls Push Toys
May 12, 2005 - WASHINGTON, D.C. – The U.S. Consumer Product Safety Commission, in cooperation with the firm named below, today announced a voluntary recall of the following consumer product. Consumers should stop using recalled products immediately unless otherwise instructed.

Name of Product: Lemon Meringue Wooden Push Toys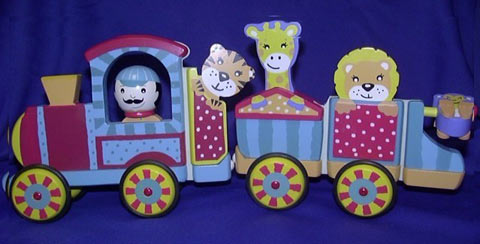 Units: About 7,000

Manufacturer: Pamela Drake Inc., of Emeryville, Calif.

Hazard: Small parts can break off posing a choking hazard to young children.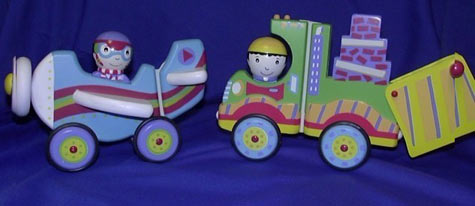 Incidents/Injuries: None reported.

Description: The recall includes six different multi-colored, solid wooden push toys, including an airplane, tractor, dump truck, fire truck, and a two-piece circus train with train cars and a tow truck with family van. The vehicles are constructed with a bendable flap that allows the toys to "wiggle" back and forth. The dump truck, circus train with train cars and tow truck with family van have white magnets on the front and back to hold the push toys together. All the toys have rubber rings on the tires. The recalled push toys are intended for children 12 months and older. There is no writing on the push toys.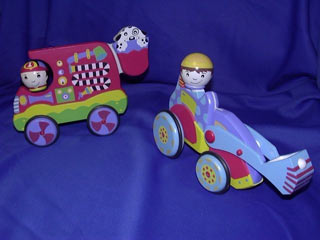 Sold at: Toy and hobby stores nationwide from February 2005 through March 2005 for between $15 and $24.

Manufactured in: China

Remedy: Consumers should immediately take these recalled push toys away from young children and return the toys to Pamela Drake Inc. or their local retailer for a full refund.

Consumer Contact: Call Pamela Drake Inc. at (800) 966-3762 between 8 a.m. and 6 p.m. PT Monday through Friday, or visit the firm's Web site at www.woodkins.com

The U.S. Consumer Product Safety Commission is charged with protecting the public from unreasonable risks of serious injury or death from more than 15,000 types of consumer products under the agency's jurisdiction. Deaths, injuries and property damage from consumer product incidents cost the nation more than $700 billion annually. The CPSC is committed to protecting consumers and families from products that pose a fire, electrical, chemical, or mechanical hazard or can injure children. The CPSC's work to ensure the safety of consumer products - such as toys, cribs, power tools, cigarette lighters, and household chemicals - contributed significantly to the 30 percent decline in the rate of deaths and injuries associated with consumer products over the past 30 years.

To report a dangerous product or a product-related injury, call CPSC's hotline at (800) 638-2772 or CPSC's teletypewriter at (800) 638-8270, or visit CPSC's web site at www.cpsc.gov/talk.html. To join a CPSC email subscription list, please go to www.cpsc.gov/cpsclist.asp. Consumers can obtain this release and recall information at CPSC's Web site at www.cpsc.gov.