BTVS: Deluxe Buffy & Faith Figures
click to see larger image (71k, 624 x 1099)
March 2005
BUFFY THE VAMPIRE SLAYER DELUXE BUFFY & FAITH ACTION FIGURES

A Diamond Select Release! With 29 points of articulation, this line of figures for Buffy the Vampire Slayer starts a new line, and sets a new standard that is sure to be a top collectible! The first releases in the line are "Graduation Day" Buffy and "Graduation Day" Faith. Based on their pivotal clash in the climactic "Graduation Day" 2-parter, set on the roof of Faith's apartment, each figure comes with episode-specific accessories; for Buffy they are a Sunnyvale High Yearbook, diploma, and handcuffs; while Faith is armed with a pipe, knife and bow and arrow.

These figures, sculpted by Gentle Giant, are packaged in a new clamshell package for ultimate collecting! Scheduled to ship in August 2005.

NOTE: This item is sold to retailers in case lots. Please check with your retailer for availability. NOTE: Not available in Australia and the U.K.

The suggested retail price is $14.99 each.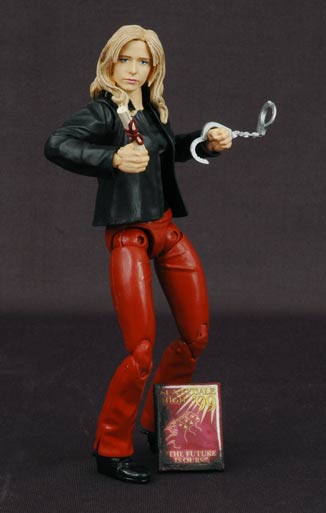 click to see larger image (61k, 652 x 1025)