Hitchhikers Guide Prop Replicas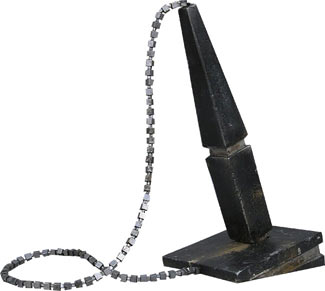 January 2005 - NECA has released this update about their Hitchhikers Guide to the Galaxy prop replicas:

Hello, fans of the interstellar super-highway! Finally we can share with you the meaning of life: Authentic Prop replicas! Limited to 1000 hand numbered pieces, each piece comes with a certificate signed by a filmmaker of the forthcoming "Hitchhikers Guide to the Galaxy" movie. Remember, these are exact PROP REPLICAS and not functional giftware items!

Right now you can go to http://www.aintitcoolnews.com/display.cgi?id=19112 and enter a poetry contest to win an entire set of Vogon Prop Replicas. This set includes a Vogon mug, a Vogon Stapler, and a Vogon Pen. Each piece is limited to only 1000 pieces, and they come with certificates signed by a filmmaker from "Hitchhikers Guide to the Galaxy". The deadline for the contest is Monday, January 17th 2005, however, if you just want to purchase a set for yourself, you can do so right now at http://www.necaonline.com/hhgg.