Dynamite Launches Red Sonja Comic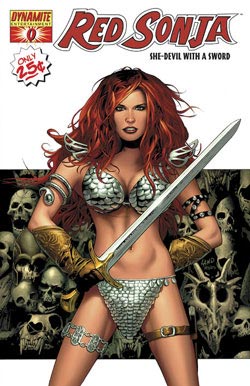 January 3, 2005, Runnemede, NJ - Dynamite Entertainment announced today that it is launching a new Red Sonja series. The series has been in development for nine months, and DE is finally prepared to unleash the She Devil with a Sword to our unsuspecting world (of comics)!

The new series also marks a new start for Dynamite, who will be launching Red Sonja (THE She-Devil With A Sword) solely under the Dynamite Entertainment imprint.

The big launch begins in April, when retailers and fans can order Red Sonja #0 - featuring 15 pages of brand new, original story and art - for just .25¢. The #0 issue will feature a cover by Greg (Phoenix: Endsong) Land, is written by Michael Avon (Thor, Powers) Oeming and Mike (Hellblazer, Lucifer, Ultimate Elektra) Carey and illustrated by break out talent Mel Rubi. Completing the art team will be Caesar (Sojourn) Rodriguez with Richard (Origin) Isanove.

"This Sonja won't be Wonder Woman with red hair," promised series writer Michael Avon Oeming. "She won't be perfect, she won't always be nice and she won't always do the right thing, especially in our modern terms of what is right or wrong."

A special "sneak peak" preview of Alex Ross's fully-painted cover to issue #1 - featuring the pure pencils of Ross's Sonja - will be available as a retailer ordering incentive on issue #0.

The writing and art team will return for the first issue of Red Sonja - scheduled to be released in June - which will feature powerhouse cover artists including: Michael (Superman/Batman, Aspen Comics) Turner, JG (Wanted) Jones, Joseph Michael (Dawn) Linsner, John (Astonishing X-Men) Cassaday, Adam (Wonder Woman) Hughes, Alex (Justice) Ross, Art (upcoming super secret DC Comics Project) Adams, Michael (Shadow) Kaluta and many more super star cover artists!

Dynamite will also present retailers with a special promotion for ordering and promoting Red Sonja #0 and #1.

Stay tuned for more information on the return of the She-Devil with a Sword in the weeks to come!

For more information on Dynamite Entertainment, please visit the Dynamite Entertainment website at www.dynamiteentertainment.com and look for updates to the brand-new www.redsonja.net.