Donald Trump Cabbage Patch Kid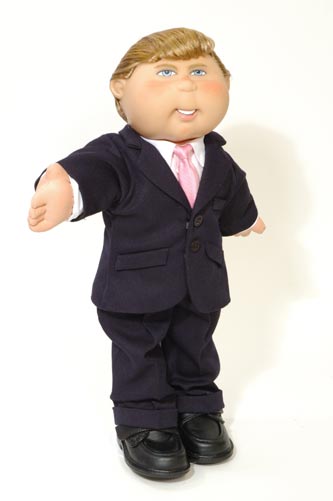 DEERFIELD BEACH, Fla. -- December 13, 2004 -- Billionaire developer and TV star Donald Trump put his famous signature in a very unique place this week, as the star of TV's "The Apprentice" autographed a "one-of-a-kind" Cabbage Patch Kid(R) in his likeness. Instead of putting his newest "Apprentice" to work on a real estate deal, the toy, authentic right down to the blue suit, pink tie and trademark hair, is currently on auction on eBay with the proceeds going to St. Jude Children's Research Hospital, Mr. Trump's favorite charity.

"The Donald Trump Cabbage Patch Kid is one of the most exciting celebrity likenesses we have ever created; we are very eager to see how much can be raised for charity when we auction off this 'Kid on eBay," said Jay Foreman, President of Play Along, a division of JAKKS Pacific, Inc. -- the maker of the Cabbage Patch Kids.

Millions of viewers received a sneak peek of the mini-Trump this morning when Mr. Foreman appeared with the doll on "The Today Show" for the show's charity gift drive. Early activity on eBay suggests that the appearance was just what was needed to kick off the bidding!

Over the last few months, Play Along has created Cabbage Patch Kids in the likenesses of Nick Lachey and Jessica Simpson, Ellen DeGeneres, Presidential Candidates Bush & Kerry and many more. The celebrity look-alikes have raised thousands of dollars for charitable causes on previous eBay auctions.

Final bids on "The Donald" must be placed by 8 p.m. EST the evening of the "The Apprentice"'s season finale, Thursday, December 16th.

About Original Appalachian Artworks

Original Appalachian Artworks, Inc. (OAA), founded in 1978 by Cabbage Patch Kids creator Xavier Roberts, is a privately held corporation located in Cleveland, Georgia. Headquarters to the world famous Cabbage Patch Kids brand and home to BabyLand General Hospital, one of Georgia's top tourist attractions, OAA also manages a wide range of other projects while continuing to deliver hand-stitched, one-of-a-kind, soft-sculpture Cabbage Patch Kids. www.cabbagepatchkids.com

About 4Kids Entertainment

Headquartered in New York City with international offices in London, 4Kids Entertainment, Inc. (NYSE:KDE) is a global provider of children's entertainment and merchandise licensing. 4Kids, through its wholly owned subsidiaries, provides domestic and international merchandise licensing; television, film, music and home video production and distribution; media planning and buying; product development; and Web site development. 4KidsEntertainment represents all merchandise licensing rights for the Cabbage Patch Kids. For further information, please visit the Company's Web site at www.4KidsEntertainment.com.

About Play Along, Inc.

Play Along, Inc., a division of JAKKS Pacific, Inc. (Nasdaq: JAKK), made its debut in 1999 with the Britney Spears(R) doll line, which broke all records for sales of an individual personality doll. Since then, Play Along(R) has produced a string of popular toy lines, including Care Bears(TM), THE DOG(TM), Curly Qs(R), Teletubbies(R), The Lord of the Rings(TM) and now -- the Cabbage Patch Kids(R)! For more information, visit the company's web site at www.playalongtoys.com or www.mycpk.com.

About JAKKS Pacific, Inc.:

JAKKS Pacific, Inc. is a multi-brand company that designs and markets a broad range of toys and consumer products. The product categories include: Action Figures, Art Activity Kits, Stationery, Writing Instruments, Performance Kites, Water Toys, Sports Activity Toys, Vehicles, Infant/Pre-School, Plush, Construction Toys, Electronics and Dolls. The products are sold under various brand names including JAKKS Pacific(R), Play Along(R), Flying Colors(R), Road Champs(R), Child Guidance(R), Pentech(R), Trendmasters(R), Toymax(R), Funnoodle(R), Go Fly a Kite(R), Color Workshop(R) and TV Games(TM). The Company also participates in a joint venture with THQ Inc. that has exclusive worldwide rights to publish and market World Wrestling Entertainment(R) video games. For further information, visit www.jakkspacific.com or www.jakkstvgames.com.

(C)2004 Original Appalachian Artworks Inc., All Rights Reserved.