Makers of Puzz 3D Release New Paint 3D Puzzles
Where is it written that paint-by-number fun has to stop when you apply the last color to the canvas? Now you can add a new dimension literally with Paint-3D, a new craft series from Wrebbit that reinvents the time-honored genre. Instead of hanging up your paintbrush and calling it a day when your piece is completely painted, you get the extra challenge of transforming a flat painting into a 3D model and then turning the results into a ready-to-hang work of 3D art.
Available in 18 different models ranging from a fishing scene to a colorful hummingbird extracting nectar from a flower, Paint-3D begins as a series of flat images painted in traditional paint-by-number fashion. When the paint is dry, the crafter punches out the pre-cut cardboard pieces and gently interlocks them on a complementary background to create a three-dimensional scene. Then it's time to assemble the color-coordinated frame, hang it, and enjoy the view.
No glue is required, and each kit includes everything needed to do the job: a ready-to-paint model and ready-to-assemble frame, acrylic paints, a paintbrush, a color guide that includes formulas for mixing colors, a chart duplicating the unpainted model for reference, and complete instructions.
For nature lovers, the newest models include the American Bald Eagle, Exotic Orchids, Swaying Sunflowers and Ruby-Throated Hummingbird. Other new scenes include Catch of the Day, French Greengrocer, Sailboat and Asian Floating Market.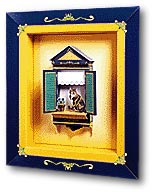 Designed for crafters 14 and older, Paint-3D models come in three sizes ranging from 7-3/4" x 9-3/4" to 16" x 20". Suggested retail prices range from $6.99 to $14.99 (U.S.), depending on size. The line is available at select Toys R Us stores, K-B Toys and specialty stores, in Spilsbury catalogs, and on etoys.com and Amazon.com.
About Wrebbit: Wrebbit is best known for Puzz-3D three-dimensional jigsaw puzzles, a medium the company invented and introduced in 1991. Headquartered in Montreal, Wrebbit also makes interactive electronic 3D puzzles on CD-ROM and a new line of children's products.
[Posted 6/05/2000]