Casper Clear Ghostly Trio Maquette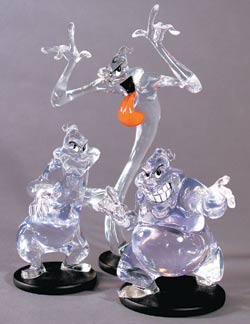 click to see larger image (103k, 750 x 971)
October 2004
CASPER PREVIEWS EXCLUSIVE CLEAR GHOSTLY TRIO MAQUETTE

Electric Tiki and Diamond Comics presents the bad boys of Harvey comics, The Ghostly Trio. The flipside of the Casper coin, the Trio lived (figurativley speaking) to frighten, and constantly made Casper's life a nightmare. The #1 most requested characters by Harvey fans, Fatso, Stinkie, and Stretch are coming your way in this 6" super limited clear edition maquette. Just in time for Halloween, the trio will make perfect companions to their fellow aparitions, Casper and Spooky.

Designed by Tracy Mark Lee and sculpted by Schu. This Previews exclusive edition is strictly limited to 250 sets. Includes a Certificate of Authenticity. Painted and ready to display. Scheduled to ship in January 2005.

The suggested retail price is $110.00.