Dog Soldiers: Pawnee Figure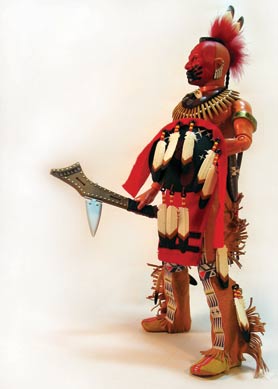 click to see larger image (46k, 555 x 776)
Dog Soldiers announces new American Indian action figure
Dramatic figure depicts a soldier of the Chahik-si-chakihs ("Pawnee") people

September 7, 2004 - Dog Soldiers announces the upcoming release of its third American Indian action figure, a Pawnee soldier of the mid- to late- 19th Century.

The Pawnee figure is a 12-inch articulated figure equipped with tribal regalia and weapons appropriate to his time and culture. He is scheduled to begin shipping October 1.

Dog Soldiers is the only action figure manufacturer specializing in authentic representations of American Indian soldiers of the 19th Century. The company has previously released figures representing soldiers of the Northern Cheyenne and Chiricahua Apache nations.

The new soldier is dressed in trade-blanket breechclout, buckskin leggings with tribal beadwork and garters, copper armbands and moccasins worn with the flaps up in the Pawnee style. A highlight of the figure is a beautiful hand-assembled bearclaw necklace decorated with fur and silver disks.

He wears a "roach" hairstyle with eagle feathers and a scalplock. Across his red-painted face is a black hand showing he has killed an enemy in hand-to-hand combat. He is armed with a "rifle-butt" war club and a Buffalo-hide shield marked with a sacred bearpaw symbol and star signs.

The figure comes packaged with a short history of the Pawnee people. Often portrayed unfairly as villains in movies like "Little Big Man" and "Dances With Wolves," the Pawnee are a very spiritual people who became an economic and military powerhouse of the Missouri River basin in Kansas and Nebraska in the 18th and 19th Centuries.

A small one-man toy company based in Alexandria, Virginia, Dog Soldiers attracted attention by offering the first series of action figures honoring American Indian soldiers. The company has also released the first action figure recognizing African American Buffalo Soldiers and a Viking warrior figure.

Owner Mike Gauldin started the company in 1999 because he felt American Indian soldiers deserved the same study and honor that the action figure collector's market showered on White military figures of all eras. The very few Indian action figures that have been produced in the past have been little better than cartoon figures, a cultural mishmash of offensive stereotypes. By producing action figures which will appeal to young people and collectors alike, Gauldin hopes to spark wider interest in learning about Native cultures as they were and are, rather than as they've been presented in movies and television.

Dog Soldiers products can be seen on the company's website at www.dogsoldiersfigures.com and are available from many national dealers and local retailers, including the Southwest Indian Foundation and the White Mountain Apache Cultural Center. Suggested retail price is $31.95.

The figure will be available October 1 directly from Dog Soldiers and from many leading on-line action figure retailers, including Cotswold Collectibles, Good Stuff to Go and Small Blue Planet.