Mega Bloks Launches Nano Bloks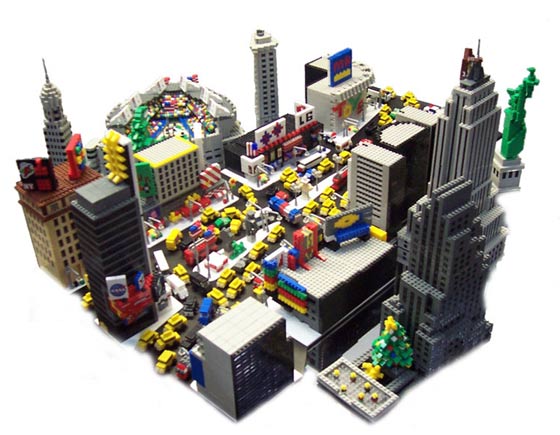 "The Nano New York City skyline is made from tens of thousands of Nano Bloks! Mega Bloks launches its new Nano Building System in New York City this week. The skyline measures 36" inches around and 10" inches in height. Kids are invited to go on-line at www.nanobloks.com and guess how many Nano blocks it took to build the skyline."
NEW YORK, NY -- 08/26/2004 -- Mega Bloks Inc. is launching Nano Building System™ in Times Square and other select New York City locations this week. With pieces as small as a pencil eraser, Nano Blok is the world's smallest building-block system.

The launch began in Times Square yesterday and included a Nano car circling Times Square, product sampling, surveying, Nano Blok Chariots (branded Segways) and a New York City skyline made from Nano building blocks (see picture attached). On Saturday and Sunday of this week, the Nano Blok Chariots will make their way through Manhattan's most popular pedestrian districts.

The new miniature building system is designed specifically for action, incredible high definition and awesome performance. Building sets offered this year include the Basic Nano Assortment -- six different styles across five color-coded themes: RACING, RESCUE, CONSTRUCTION, MILITARY and CLASSIC/SHOW vehicles. Each vehicle comes in a multi-use display/storage case with built-in NANO-RULER for measuring projects under construction, NANO-FIER MAGNIFYING LENS for close-up detail work and track ramps that connect to other sets. Most Nano sets come with electronic sounds and some with light to make the vehicles and play experience all the more exciting.

The line also includes the Deluxe Nano Assortment™, Nano-Tropolis™ and the Smokin' Stunt Speedway™ a head-to-head race where kids control the power: racing speed or crashing stunts with pump-up smoke and light show for tire-squeelin', rubber-burnin' action! This set also includes integrated COLD FLAME™ smoker, T-Bar Gear shift/pumper, pressure tank, sound chip and mechanical launcher. Kids can build four vehicles, race on eight modular track accessories, and jump on two ramps with crisscross track change-ups.

Nano Building System™ is now available in all major retail stores including Wal-Mart, Toys "R" Us and Shopko among others. Suggested retail prices start from $5.99. The products are recommended for ages seven and older.

Mega Bloks creates high quality, fun and educational construction toys that inspire kids and parents to play and learn together. The MEGA BLOKSŪ system features basic and themed construction toys for boys and girls of all ages. Headquartered in Montreal, Canada, Mega Bloks Inc. is a global organization employing approximately 1,000 people, with sales in over 100 countries.