New Arrivals at Big Bad Toy Store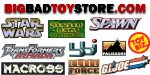 May 28, 2004 - (Sponsor Announcement) - Online retailer BigBadToyStore.com has several new items of interest to collectors:

10% OFF ALL INSTOCK ITEMS SALE: Sale ends Memorial Day - Monday 10:00 AM (central time) Our last sale was such a success we decided to have another 10% off sale to offer some nice summertime savings to you. To avoid confusion, please read the sale details to see how the sale works and how the discounts are applied to your invoice. ALL Instock items are included in this sale - including all NEW listings and all VINTAGE menu items along with the rest of our normal inventory.

TAKARA BINALTECH BT-09 WHEELJACK: We've received preliminary info about the BT-09 release. Wheeljack will be a white repaint of the BT-06 Tracks release. Takara has not officially announced this release yet, but we are confident based on past pre-announcement info that has leaked out that Wheeljack will be announced soon. BBTS should be the first place to offer this new Binaltech figure for pre-order - enjoy!

SPIDER-MAN CLASSIC & MOVIE FIGURES: The Classic Wave 9 figures have arrived, very cool Ultimate Rhino, Black Costume Spider-Man, Cyber-Spider-Man and Secret Identity figures are available as a set of 4 and Cyber & Secret Identity SM are also available singly. Wave 2 Movie figures have arrived - including the very nice Super Poseable S.M. with 46 points of articulation

PRE-ORDER SUPERLINK AND MICROMAN: We've found pictures for a few of the recent Microman Pre-Orders (the BM01 through BM04 and Devilman) 12 new Transformers Superlink Pre-orders have been listed - the SC-17 through SC-25 and SD-17 through SD-20 are all available for pre-order. No pictures yet, but they are a nice assortment of figures. The RobotMasters #14 figure - Dread Wing is also available for pre-order.

MARVEL & X-MEN: A nifty set of 4 Marvel Movie Twistem mini-windup figures has been listed. Set of 4 figures includes Blade 2, Nightcrawler, Daredevil and Wolverine - available for $21.99. Also back in stock are more X-Men figures inclucing Cyclops and the set of 5 with Archangel.

OTHER COOL STUFF IN STOCK:

NECA: 18" Freddy Krueger figure - 'Other' Menu
TOMB RAIDER: The very nice Lara Croft in Wetsuit Statue - Other Menu $75

POCKET SUPERHEROES: Batman Set of 6 - DC Menu - $19.99
TRIGUN: Vash the Stampede - 'Other' Menu

Thanks for your interest in www.bigbadtoystore.com and be sure to check out the new items and pre-orders and if you were thinking of ordering anything, this weekend would be a great time with the 10% Off sale going on.

Again - I'll be out of town until Monday morning and will send order confirmations and email replies out then!

BigBadToyStore.com