Fisher-Price To Launch Veggie Tales Line This Summer
As we mentioned in our Toy Fair coverage this past February, Fisher-Price has picked up the license for Big Idea's Veggie Tales.
What is Veggie Tales, you ask? Only one of the top series of children's videos. The first Veggie Tales video was release back in 1998, and the series has skyrocketed in popularity since then. Not only do these videos - each packed with story and songs - appeal to kids, but millions of adults love them, too. Titles such as Josh and the Wall, Dave and the Giant Pickle, Larry Boy and the Fib from Outer Space not only entertain kids and kids-at-heart alike, but they also teach important values to kids that are missing from most other children's entertainment these days. And, if you haven't experienced Silly Songs with Larry then you are truly missing out!
Fisher-Price will be launching their extensive Veggie Tales line this summer.
Sing and Dance Assortment: (shown left) Home grown heroes Bob the Tomato and Larry the Cucumber come to life as they sing and dance just like in the videos! Squeeze Larry's tummy or Bob's stem to hear them sing, and watch them dance - Larry wiggles side to side while Bob bops up and down.
Bounce 'N Talk Assortment: (below) A collection of the famous Veggie Tales characters, Larry the Cucumber, Bob the Tomato, Jr. Asparagus and Laura the Carrot, all of which say up to five fun phrases when bounced. Each character is portrayed in soft plush, with quotes from memorable Veggie Tales episodes.

Veggie Tales Figure Pack: (below) Five vinyl characters, Bob the Tomato, Larry the Cucumber, Jr. Asparagus, Laura the Carrot and Jerry Gourd, enable kids to reproduce their favorite Veggie Tales episodes.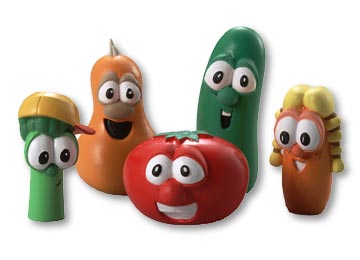 Veggie Friends Collection: (below) Cool family portrait package with four beanbag Veggie Tales characters, Bob the Tomato, Larry the Cucumber, Jr. Asparagus, and Laura the Carrotall have goodly eyes that appear to move.
Veggie Tales Junior Glow Light: (left Just like in the Veggie Tales video, children can take this Junior Asparagus plush to bed with them so they don't have to be afraid of the dark. Just a squeeze and Junior's eyes light up while he reassures the child, "I'm not scared." Junior also hums a lullaby, making bedtime safe and cozy once again.

This fall will see the release of Larry Boy, Larry the Cucumber's superhero identity. This superhero knows how to get himself out of trouble with super-suction ears that launch out to catch evildoers. The Larry Boy talking plush comes with two "evil doers".

The Larry Boy Figure and Vehicle Set will also be released in the fall. Larry Boy gets around to ward off evil in his cool Larry Mobile vehicle. The Larry Mobile wheels pop off and hidden wings pop out to transform from car to plane, so Larry Boy can swoop in and save the day.

Both the Larry Boy talking plush, and the Larry Boy Figure and Vehicle Set will be exclusive to Christian Book Stores in 2000. All other Fisher-Price Veggie Tales product will be available at your favorite mass-market retailer.

[Updated 4/21/2000]