New Arrivals at Big Bad Toy Store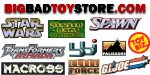 January 12, 2004 - (Sponsor Announcement) - Online retailer BigBadToyStore.com has several new items of interest to collectors:

GI JOE: The next wave of 40th Anniversary figurs has arrived - the 10th, 12th and 13th figures in the series - a variety of Action Pilots and Action Soldiers are in stock for $34.99 each.

ENERGON AND JAPANESE ENERGON - SUPERLINK: We have received the first 14 of the Japanese versions of Energon called Superlink. Also in stock are the USA Ultra Energon Scorponok and Tidal Wave - $29.99 each (Pre-orders will be processed over the weekend for Ultra figures)

ALTERNATORS SMOKESCREEN: The domestic Hasbro version of the Subaru Impreza Smokescreen has arrived and is in stock for $25.99. We have pre-orders available for all the rest of the Alternators as well. (Pre-orders will be processed this weekend for Smokescreen)

SAINT SEIYA: We have received the imported Bandai Japan Saint Seiya set of 5 figures - similar to the Bandai USA Knights of the Zodiac figures, but with authentic Japanese packaging. Each figure is $17.99

SOUL OF CHOGOKIN: We have restocked the GX-18 Getter Dragon, and have received the GX-20 Getter Poseidon (The GX-19 has pre-sold-out - pre-orders for GX-19 and GX-20 processed this weekend) The GX-06M Metallic Getter Robo is back in stock along with the Combattler V. The Chogokin - GX-08 minifigure is also in stock.

TRANSFORMERS: A variety of previously sold out imports have been restocked: Mega PVC Megatron - normal and metallic exclusive, all 4 of the Japanese Beast Wars C-1 Ape versions, Nucleon Quest Prime, Sixbuilder, #9 Re-Issue Starscream, #7 Re-Issue Sideswipe, Myclone 1 & 2, Heroes of Cybertron 1.5 and 4, RID Cryotek, Hasbro Skywarp, Prime, Prowl & Hoist

20TH OPTIMUS PRIME: We have listed new pre-orders for both the Takara and Hasbro versions of the 20th prime. Late January arrival for the next Takara Prime shipment (107.99 each) and February for the Hasbro shipment ($69.99 each)

HARD HERO STATUES & BUSTS: We have a limited amount of the shockwave bust Artist's Proof - signed for the artist for the reduced price of only $44.99. Unicron Statue, Shrapnel Statue, Starscream Bust, Grimlock Bust and many other TF busts and statues are back in stock.

LORD OF THE RINGS: Mattel's Barbie set of Arwen and Aragorn has arrived for $49.99 - a very well done set that brings out nice themes from LotR and Barbie. On the Sideshow menu - the 3/4th Scale Gollum Bust is in stock for $199.99 - a very large and detailed bust.

STAR WARS: Three new 12" figures have arrived - all from the A New Hope - Jawas, Obi-Wan Kenobi, and Garindan. We have also restocked a variety of older POTF items and the Marmit Sandtrooper Sergeant Model Kit.

OTHER COOL ITEMS IN STOCK - Most on the 'Other' Menu:

MARVEL SELECT: Wolverine, Black Kat, Elektra, Black Widow - 'Other Menu'
BERSERK: Kuri Puck - 2 versions, Guts Mercenary & Guts Hawk Soldier
MONTY PYTHON: King of Swamp Castle & Prince Herbert
EVANGELION: 2 Eva 'Gun Battle' figures and 2 Extra Winter Lady figures
MACROSS: more 1/48 scale Armor sets have arrived for $64.99
BigBadToyStore.com