GI Joe 40th Anniversary Figures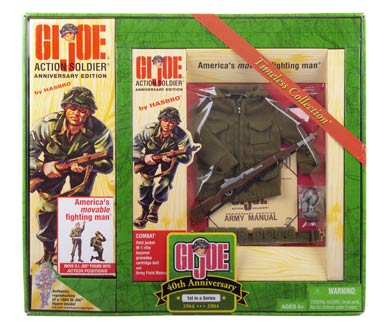 PAWTUCKET, R.I. -- June 26, 2003 -- Nearly 40 years ago, Hasbro, Inc. revolutionized the toy industry when it introduced G.I. JOE, the world's first action figure, in 1964, and in the process, created an American icon. Generations and millions of figures later, Hasbro is honoring the 40th anniversary of G.I. JOE in 2004 by releasing a line of 40th anniversary special edition figures this summer. The first four figures in the line will be available for purchase at the 7th Annual International G.I. JOE Collectors Convention in Burlingame, CA on June 28-29, followed by national mass-market availability.

The G.I. JOE preview collection includes authentic reproductions of the original four G.I. JOE figures launched in 1964 - one for each branch of the military (Army, Navy, Marine, and Air Force). The preview line will feature the same outfits, packaging and accessory sets as originally released.

The anniversary series will continue in 2004, with 24 total "40th Anniversary" products rolling out in waves through the end of next year. The preview collection will be available in major toy stores and mass merchandisers nationwide this summer with an approximate retail price per figure of $34.99.

"Hasbro's G.I. JOE line evokes memories of backyard adventures and fun for millions of men and boys," said Derryl DePriest, Director of Marketing for Hasbro's G.I. JOE brand. "G.I. JOE is an icon of heroism and adventure, and we hope our fans will enjoy replicas of the first figures which started it all almost 40 years ago."

G.I. JOE figures made their debut in 1964 as an 11-1/2 inch action figure with 21 moving parts. In recent years, the G.I. JOE brand has seen a sales resurgence, highlighted by four consecutive years of double-digit growth. The G.I. JOE International Collectors Convention is an annual gathering of G.I. JOE enthusiasts from around the world. This year's convention is at the Hyatt Regency at the San Francisco Airport in Burlingame, CA.

For more information about G.I. JOE, visit www.gijoe.com. For additional information about the Official G.I. JOE Collector's Club, call (817) 448-9863, or visit www.gijoeclub.com.

Hasbro is a worldwide leader in children's and family leisure time entertainment products and services, including the design, manufacture and marketing of games and toys ranging from traditional to high-tech. Both internationally and in the U.S., its PLAYSKOOL, TONKA, MILTON BRADLEY, PARKER BROTHERS, TIGER and WIZARDS OF THE COAST brands and products provide the highest quality and most recognizable play experiences in the world.