Titanium Monsters of Rock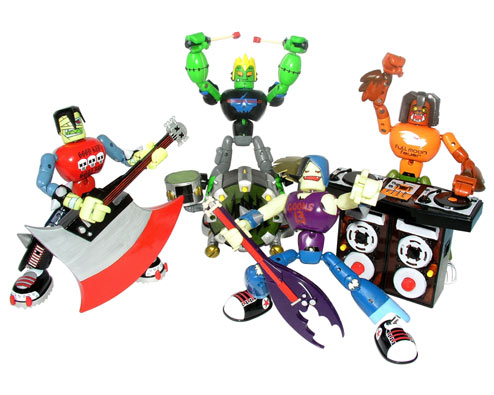 Click to see more pictures
May 2003 - Play Mind Toys continues to unveil original designs with the next line of figures in the Titanium series. As with the previously announced lines, this rockin' line will consist of the same great features that make the Titanium line so unique and appealing. Based on the 32-point articulation, 6-inch die cast canvas, Monsters of Rock are a gruesome gang of monsters who are jammin' their way into the toy industry with their upbeat tunes and offensively humorous attitudes.

After rocking the graveyard scene for centuries, the frightful foursome is taking its show on the road... so get ready to head bang with the Monsters of Rock! Brooklyn Von Doooom! serves as the band's vicious vocalist and lead guitarist. Franklinstein Fright is on drums, while Skinny Gawz brings the bass. DJ "Wolfgang" Bonez brings the melodious sounds together in one accord as he scratches his way to super-stardom on the turntables.

Each figure comes with a speaker that houses an interactive component, enabling the monsters to play two "metal masterpieces" together. Each of the figures will have the ability to speak one of four phrases, perform multiple music solos, and perform two full compositions as a band. Collecting more than one Monster of Rock figure allows for a more extensive song play and extended dialog among characters.

Coming to stores near you next full moon, catch the screaming sonics of the most gruesome band on earth! More information will follow soon.