Vampirella Comics & Cards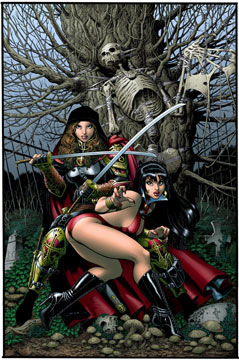 April 2003, Runnemede NJ -- Dynamic Forces is proud to present the exclusive alternate cover to Magdalena/Vampirella #1 featuring brand-new art by the incredible Art Adams!

This titanic cross-over features comics two premiere lethal ladies and our exclusive cover marks the first time ever Art Adams has captured a Top Cow character in pen and ink. While having previously rendered the heroine of Drakulon, this exclusive piece of art features the first time Art Adams has ever drawn Magdalena - one of Top Cow's premiere lethal ladies, who will be launching in her own series come summer.

"Art Adams and I have had a great relationship over the last 10 years, and it gets stronger all the time! We are very fortunate and happy to have him do one of the things that Arthur does best. One is drawing monkeys, the other is drawing beautiful women, and the beautiful women are definitely up our fans alley! (Monkey's are too - but there aren't any in this crossover)," said Nick Barrucci, President of Dynamic Forces. "Art Adams fans, Top Cow fans, and all comic fans will love this cross-over and this exclusive cover!"

MAGDALENA/VAMPIRELLA DF EXCLUSIVE ALTERNATE COVER - by Art Adams!
http://www.dynamicforces.com/htmlfiles/p-C97504.html

The trifecta of all firsts! The first Top Cow/ Harris crossover features the first Magdalena/Vampirella crossover! The first time in over 2 years Art Adams is doing non-DC work! The first time ever Art has ever drawn Magdalena!

Since Top Cow has one of the best artists on this cross-over project in the form of Joe Benitez, Dynamic Forces had to raise the bar and get one of the best artists in the business to do the exclusive cover. Here is your chance to get the limited edition only from Dynamic Forces!

$6.99 Suggested Retail Price.

For more information on Dynamic Forces specialty merchandise, product art, exclusive creator interviews and upcoming releases - including more Top Cow and Harris product, please visit the Dynamic Forces website at www.dynamicforces.com.

---
Dynamic Forces, Inc. has signed an agreement with Harris Publications to create a brand-new trading card series based on one of the most popular female comic book characters in the industry -- Vampirella!

The artists lined up by Dynamic Forces range from current Vampirella comic illustrators to long-time contributors like Mark Texiera, Amanda Conner, Jimmy Palmiotti, including the incredible artwork of J. Scott Campbell, Joseph Michael Linsner, Jae Lee and more. Look also for current classic Vampirella art by Tim Sale, Gary Frank, Ray Lago, Alan Davis, Mark Farmer, Joe Quesada, Bill Sienkiewicz, David Mack, Rick Mays, Joe Jusko, and Adam Hughes.

"I want this to be one of the best card set available," Vampirella publisher, Jonathan Rheingold says. "We have has incredible artwork published over the last few years featuring the top talent and hottest new creators around, and we're going to PROVIDE the best art available to help make sure the fans get what they deserve in the Vampirella Trading Card Set. It is an exciting time in comics and it is great to be working with Dynamic Forces on this project. I'm thrilled that they worked with some of the greatest artists to created this series and that they're including autographed cards by some of these artists as well as signed cards by Vampirella models Julie Strain and Maria DiAngelis!"

Dynamic Forces President Nick Barrucci says, "Vampirella is one of the most recognizable female icons in comics. She is also one of the strongest and best female characters out there. We're going to make this summer sizzle when we release this set."

The trading card set consists of 72 base cards plus 6 chrome chase cards as well as an unprecedented SIX signed cards in every box! A hand drawn sketch card will also be included in every single box. MSRP is $1.99 per pack. Dynamic Forces will also create a limited edition collector's binder, with a $19.99 MSRP, but will be limited to 1000 units!

Also planned as an added bonus is a special box topper is a limited edition Vampirella comic featuring a Jeph Loeb and Tim Sale collaboration. The story which original appeared in 1999 is entitled "Looking for Mr. Goodwin," is one of the best Vampirella stories ever told, brought to you by the team who gave us Batman: Dark Victory, Batman: The Long Halloween, Spider-Man: Blue, Superman: For all Seasons and more!

This classic and very cool limited edition Vampirella comic book will be presented in this format exclusively with the trading cards. A special retailer incentive, featuring a "blood red" foil edition of the comic box-topper, will also be available.

Harris Comics, a division of Harris Publications, publishes VAMPIRELLA monthly as well as the Anarchy Studios books of VAMPI VICIOUS and XIN: JOURNEY OF THE MONKEY KING.

Debuting in 1969, Vamiprella has influenced generations of comic book readers and creators. Crossing horror with science fiction, Vampirella has stood her ground as an icon of comics for over 30 years.