Four More Mullet Heads in 2003


Los Angeles, CA. January 2003 - Since opening its doors in 2001, rebel toy design company, Achy Breaky Toys (ABT), has been on a mission to provide products that are the comical and irreverent alternatives to a toy collecting market primarily characterized by the rather serious and somber collectors of fashion figures, such as Barbie, and action figures from films, such as "Star Wars" and "Lord of the Rings."


And ABT lived up to that mission of madcap mayhem when it presented its first four action figures that were tongue-in-plastic-molding-cheek tributes to a bad unisex hairdo - The Mullet Heads.


Then to ensure that no one ever underestimated ABT's absolute commitment to be the U.J.D. ("Ultimate Juvenile Delinquent") of the toy industry, ABT included hilarious "biographies" with the original four Mullet Heads: Terry Wolf, a stuntman/personal trainer, turned actor after meeting Frank Stallone; Kelly Radditz, a stay-at-home-with-the-parents-to-avoid-fulltime-work-at-all-costs slacker; Randy Laughlin, dry-waller and converted garage bachelor pad dweller, who's never tasted a beer he didn't like; and Speed Fry, Jr. an armadillo-lovin', vertically-challenged human Hobbit with a penchant for setting, uh, watchin' small fires.


Since that initial launch, these four figures have created a buzz that would rival any cult worth its salt... And the number of Mullet Heads fans -- who ABT affectionately calls "HEADS" -- has exploded, and include celebrities such as rock superstar, Tommy Lee.


The popularity of the Mullet Heads, has also garnered ABT a coveted spot; BOOTH # 5783, at the world-renowned American International Toy Fair being held next month in New York.


Additionally, in response to public demand -- and ABT's absolute spiritual calling to spawn a synthetic posse of socially incorrect playthings -- there are now four new Mullet Heads: 1). carnival ride operator, Artimis Moses Lester, who tested the tenets of time travel by attempting to push his beloved Gravitron to hyperspeed - but instead, hyperlaunched a kid from the ride; 2). gender-bender activist, Marcy "The Muffin" Manning, who's partner Janice is an example of the DeGeneres/Etheridge philosophy of dating - when there's a dysfunctional hetero-ex, there isn't a straight woman that can't be "converted;" 3). wannabe hair-band rocker, Ezra Epstein aka Freddy Gold, still trying to get over the trauma of losing his prized David Lee Roth bandana, in a fire sparked by a bad outlet and too much hairspray; and finally 4). "Chemist"/ entrepreneur, Chad Dimas, a former Humble Pie roadie, now self-proclaimed descendant of "them aliens" who built the Pyramids, who's also seeking compensation on his claim that he's the brainchild behind The Raging Waters theme park.


Retailing at only $9.50, The Mullet Heads can be found at national outlets, such as: Urban Outfitters, Spencer Gifts, and Media Play Stores; as well as local toy stores, including: Meltdown on Sunset in Hollywood and the Soap Plant in Silverlake.


Other Mullet Heads merchandise includes: a selection of t-shirts, a pack of stickers, and the Randy Laughlin Pop 'N Fliq , a multi-purpose lighter-beer can opener-key chain.


All Mullet Head products can be viewed and ordered from www.mulletheadtoys.com


About Achy Breaky Toys

Based in West Hollywood, Achy Breaky Toys was founded in 2001 by Southern California natives: Melissa Varon, Jennifer Malloy and Jonathan Cathey. Varon attended San Diego State and the Fashion Institute of Design &Marketing. Malloy has a B.S in Business from USC. Cathey earned a B.A. in Theatre Arts from Cal State Northridge and plays drums for an unsigned band. All three have difficult-to-trace backgrounds in various professions, but hope that Achy Breaky Toys will bring them the fame and fortune they so richly deserve. The trio claims their inspiration for The MULLET HEADS came while imbibing a lot of coffee, cigarettes and alcohol.

Artimis Moses Lester AKA "The Carney"
Mullet Classification: The Whip It
Age/dob: 63, 9-3-38
Height: 7'1"
Weight: 198 lbs.

Occupation: Traveling Carnival Gravitron Operator (certified in North Dakota, Florida and The Virginias)
Status: Separated
Mode of transport: Camper
Favorite band: Captain and Tennille
Favorite movie: Soylent Green
Favorite hot spot: The Dunk Tank
Notable quote: "This *&%#[email protected]$$%#$#%*&$%$ thing won't stop!"

BIO:
born in Gainesville, FL., Artimis Moses Lester dropped out of high school at the age of 15 to get a job at the local asbestos plant. after being diagnosed with "asthma" in 1967, Artimus was looking for a new career. Artimus barely passed the Army enlistment exam and joined the boys in VietNam. He did three tours and amazingly returned without noticeable physical damage, but experienced bouts of delusion and paranoia. Jobs being hard to come by for delusional, paranoid, Vietnam Vets, he landed a sweet gig as the Gravitron operator for the Bob's Mobile Family Fun Park. Artimus almost lost his job when he launched a child from the Gravitron while trying to reach hyper speed to achieve time travel. He was heard yelling "that Delorian has nothing on my Gravitron!" The episode was said to be brought on by a "Leonard Nimoy: In Search Of" marathon. In spite of the incident, the states of Florida, North Dakota and the Virginias have certified Artimus as a safe Gravitron operator. In addition to his duties as a Gravitron operator, Artimus proudly serves as the current president of TNO: Trust No One, a club dedicated to uncovering the truth of Government Conspiracies.

Marcy Manning AKA "The Muffin"
Mullet Classification: The Beaver Tail
AGE/DOB: 42, 5-25-60
HEIGHT: 5'7"
WEIGHT: 203 LBS.
OCCUPATION: P.E.T.A. Lobbyist/Dog Walker/Volunteer Fire Fighter
STATUS: Partnered
MODE OF TRANSPORT: 1979 JEEP
FAVORITE BAND: 4 NON-BLONDS
FAVORITE MOVIE: Personal Best
FAVORITE HOT SPOT: Self Defense Classes
NOTABLE QUOTE: "Janet Reno Is Neeto"

BIO:
Marcy Manning made the move from manly Iowa to Eugene Oregon in 1986 to live with her partner Janice LeMire. The two bonded at a cultural fair in 1985 while in line for henna tattoos and have been inseparable ever since. They are anxiously awaiting their same sex marriage which will be Janice's second time tying the knot (1st same sex marriage). Marcy's obligation to appear in court due to a group sponsored kidnapping of a self proclaimed male chauvinist have forced them to push back the wedding. This has not helped Janice in her custody battle for her son from her previous marriage. The two often tiff about their hygiene differences and Janice is getting sick of the rashes on her body from Marcy's hair. Marcy believes that god put hair on us for a purpose. At least her pet chinchilla understands.

Freddy Gold AKA Ezra Epstein AKA "The Rocker"
Mullet Classification: Gig Wig
Age/dob: 32, 10-31-68
Height: 6'
Weight: 99 lbs.
Occupation: Part time clerk at Metal Edge Records/Part time Pool Cleaner
Status: 1400 and counting
Mode of transport: Pontiac Fiero
Favorite band: Wasp
Favorite movie: Pamela and Tommy's home video
Favorite hot spot: The Guitar Center
Notable quote: "Early Van Halen- The Real Van Halen!"

BIO:
Ezra Epstein, 16 years old and only $102 in his pocket, took a Greyhound Bus from his hometown, Oshkosh Wisconsin, to LA. Shortly after his arrival, Ezra Epstein found work as a dishwasher at The Rainbow and struggled until he answered an ad in Rock City News: "Warlock flock looking for looks, licks and locks" and adopted the stage name "Freddy Gold." Warlock Flock's locks being second to none, it was not long before they were named the House Band at Gazarri's. The gig came to an end after Freddy's crash pad went up in flames. The guys of Warlock Flock were getting ready for a night out on the Sunset Strip, when a case of Aqua Net exploded in a fire sparked by an over plugged outlet. Most of their equipment was lost along with Freddy's prized possession, a bandana that he ripped from David Lee Roth's leg at the US Festival. Freddy reminisces of Warlock Flock's heyday at Gazzarri's, but is still looking to get signed. Currently between gigs, Freddy makes ends meet with money he earns cleaning pools during the week and working at Metal Edge on the weekends.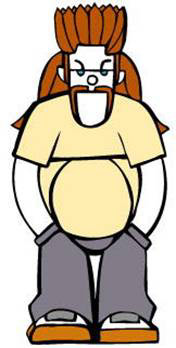 CHAD DIMAS AKA "THE LAB RAT"
MULLET CLASSIFICATION: The Banning Pass
AGE/DOB: 36, 6-19-65
HEIGHT: 5'6"
WEIGHT: 219 LBS.
OCCUPATION: Chemist/Entrepreneur
STATUS: Probation
MODE OF TRANSPORT: Subaru Brat/ATC
FAVORITE BAND: .38 Special
FAVORITE MOVIE: Wizard Of Oz (When Watched With Dark Side Of The Moon)
FAVORITE HOT SPOT: Sun Valley Strip Yard
NOTABLE QUOTE: "Dealing, Peeling and Three Wheeling"

BIO:
Chad Dimas used to roadie for Humble Pie in the seventies and toured with his cousin, who played bass for his favorite band, .38 Special. He has settled in San Bernardino County and feels he has finally found his niche; after all there is a hometown buffet right around the corner. Says he was victimized by the savings and loan scandal in the 80's, and it affected his inheritance from a grandmother he was estranged from. He also claims that he was the brainchild for the Raging Waters park in San Dimas but his idea was stolen after a long night of partying. He still thinks that one day he will get compensated for the project. He had a car detailing business that fell through when his partner ran off with all the gear and hocked it for paraphernalia and substances. Chad claims to be descended from a race of space aliens that built the pyramids. He wears a mouth piece at night because he has TMJ.
ALL RIGHTS RESERVED © 2001 ACHY BREAKY TOYS