Kid Galaxy Mitey Zippy RCs


January 2003 - Manchester, N.H. At Toy Fair 2003, two new line extensions of the award winning KG Racer™ will be introduced. With the same zippy action, these truly unique lines have been made to move. The new insectimites™ feature four creepy crawler styles, buzzby, the bee with a sting, morpheus, the colorful caterpillar, crimson, the lucky ladybug and stinger, the distinct scorpion. The musclemites™ line has that nostalgic appeal with its kg cruiser, a blast from the past, the leadsled, colored red and styled for speed and the t-bucket, with its fire hot detailing.

These models along with the original KG Racer automites™ bring remote control cars to another setting: indoors! This galaxy's smallest, longest running, multi-function, no charge necessary, RC battery-operated mini-cars can ride on tabletops, under chairs and over carpets. Maneuvering them is a cinch. With simply two knobs on the remote control, these cars zoom in all directions, they can even do spins and wheelies. With a little practice, the car tricks are limitless.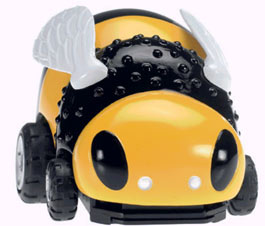 Two frequencies are available, 27 MHz and 49 MHz and the toys are recommended for ages 5 and up.

Kid Galaxy is committed to offering unique, high-quality toys for kids and their families. The company's award winning Bendos brand features a new line of RC's along with bendable, posable Characters, Animals, Action Sets, Sport Sets and a Family Series. Their exclusive brands are available at the Imaginarium section of Toys R' Us, Learning Express, FAO Schwarz, as well as specialty retailers nationwide or visit kidgalaxy.com to find a store nearest you.