January 2003 - Kid Galaxy's launch of products featuring new Bendos, KG Racers and My First RC is scheduled for Toy Fair 2003. Recipient of prestigious awards throughout the year including the Oppenheim Gold Award 2003, numerous Dr. Toy's Awards, Parenting 2002 Toy of the Year and Family Fun Toy of Year Award, the company's list of winners keeps growing.


ALL ABOUT BENDOS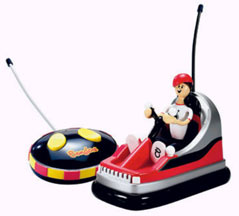 Bendos RC's

New Bendos RC's bring more entertainment to the already exciting world of Bendos. Designed with exclusive Bendos, two new styles will be available by Toy Fair 2003. The Bumper Cars come in either red or blue and are made to move just like the action from bumper cars at an amusement park. The new sleek Bendos Racer has been designed for speed and quick-moving performance too! With an exclusive Bendo Swifty, it's all action play.

Bendos Animals

Two new sets of Animals will be introduced at Toy Fair 2003 to accompany the existing line of Dinosaurs and Safari Animal Bendos. The Farm and Sea Animals, like their critter cousins, will be flexible, posable and supremely bendable. These brilliantly colored Bendos Animals will move with kids' imaginations in the desert, on a farm or deep in the blue sea.

Bendos Figures

Bendos stand 5 1/2" tall and are constructed of flexible, plastic-coated wire. They have gripper hands that hold, hang and connect. These collectible, wholesome, non-violent action figures have been designed to fit every person's hobby, sport or interest. New to the series is Briana, the bubble girl who comes with real bubbles and a wand. Trapper, the bug catcher has a net and a jar with a black widow spider, make believe of course! Each Bendo comes equipped with accessories and a trading card.

Bendos Sport Sets

Camping and Gymnastics are two new Sport Sets to be introduced this year to a line that includes such favorites as Basketball, Skateboard, Football and Hockey. The award winning Bendos Sport Sets combine Bendos, gear and street, gym or field accessories. The sets offer a mix of extreme and traditional themes for endless hours of imaginary play and discovery.

Bendos Action Sets

Safari Jack is ready for some rough riding in the new Safari Jeep debuting at Toy Fair 2003. Each Bendos Action Set pairs Bendos and accessories with dynamic vehicles. The line includes the award winning Zoomers, (Bendocycle, Spacecruiser and Aquazipper), Sky Surfer with Mega-Parachute, Police Car, Taxi Cab, Off-Road Racer and Baja Convertibles-one with flower power deco, the other in vibrant neons.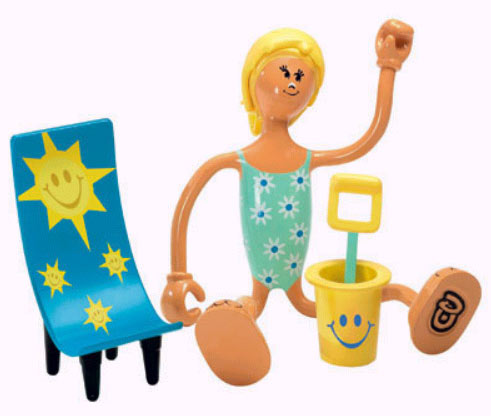 Bendos Family Series

The award winning Bendos Camper is sporting all the fixings for a family adventure. Fueled by imagination only, this set provides endless hours of play. New to this series is Beach Girl Sandy, packaged in a box with a fashionably designed beach chair, pail and shovel and Freddie, the Frisbee Boy with his pal dog Fetch and a frisbee. The Bendos Backpacks designed for girls and boys hold all the hot accessories with their own exclusive Bendo too.

Bendos Keychains

Bendos Keychains are miniature (4"H) versions of Bendos bestsellers that come with a sturdy, generous clip. Like the original Bendos, the keychains also include accessories-fully attached for safekeeping.

Age
Recommended for ages 3 and up.

Availability

Kid Galaxy® is committed to offering unique, high-quality toys for kids and their families. The company designs and develops products that encourage creativity, discovery and fun. These fine products can be found at Imaginarium, Learning Express, FAO Schwarz as well as specialty retailers nationwide. Visit kidgalaxy.com for more information.