Battle Royale: US Manga Release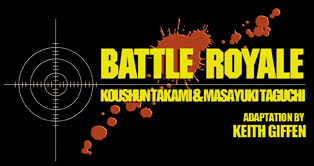 Los Angeles, CA (January 15, 2003) -- TOKYOPOP®, the #1 U.S. publisher of graphic novels, will bring one of Japan's most disturbing and macabre properties to North America. Recognized as a modern day Lord of the Flies, Battle Royale introduces readers to a horrifying world in which reality games like today's Survivor get a homicidal maniac twist and are taken to the ultimate extreme. TOKYOPOP has tapped Keith Giffen -- one of the comic book industry's most revered writers -- to do Battle Royale's U.S. adaptation. Giffen is known for such popular U.S. comic books as Justice League and The Legion of Super Heroes, among others.

"He's perfect for the series," says TOKYOPOP Senior Editor Mark Paniccia. "He understands the nature of the story, the subtext and the delicate nature of the social message that's being sent through one of the most graphically violent comics of the century."

"I am very excited about working on this project for TOKYOPOP," Giffen adds, "I thought I knew the limits to which 'extremes' could be taken – I was wrong!"

In this manga series' chilling future, random Jr. High School classes are chosen to compete in a game called "Battle Royale." The rules: one student must become the sole survivor after three days or ALL will perish. With an island as their backdrop, the students are armed and sent out into the fields alone and unprepared for the horror that awaits them. Classmates turn on each other in a battle for survival, where treaties are made and broken, and former friends become foes as the relentless countdown continues. Amid the betrayals and rising body count, two classmates confess their love for each other and swear to survive the deadly game together.

The infamous Battle Royale manga was originally created by author/artist team Koushun Takami and Masayuki Taguchi. Its shocking social commentary has also spawned a movie adaptation by the late veteran Japanese director Kinji Fukasaku, cited as the inspiration for such famed U.S. filmmakers as Quentin Tarantino and John Woo.

About TOKYOPOP®

TOKYOPOP®, founded in 1996, is the leading North American publisher of manga, the fastest growing category within the publishing business. With exclusive rights to hundreds of book, video and music products, the company has become a media convergence leader. TOKYOPOP has millions of books in print and publishes several hit properties based on popular Cartoon Network and Kids! WB programs. TOKYOPOP titles include Sailor Moon, Gundam, Initial D, Samurai Girl Real Bout High School, Reign: The Conqueror and Cowboy Bebop, among others. With rapidly growing U.S. demand for its properties, TOKYOPOP is actively expanding into television, film and licensed goods. Visit www.TOKYOPOP.com for additional information.