New Images of Unreal Tournament 2003 Figures


October 18, 2002 - RTM is proud to show the first images of painted prototypes from Radioactive Clown for the line of action figures based on Unreal Tournament 2003.


Radioactive Clown is a new company that specializes in figures based on videogame properties. The company is run by the reclusive RC from an abandoned missile silo in a top secret location. The company has announced licenses for figures from Human Head's Rune and Epic Games Unreal Tournament 2003 and Unreal Championship. Shown below are two images of Damarus (previously shown only unpainted) and Gorge (who is being revealed here for the first time). Gorge is a gene-boosted human player that joins Damarus in the line. Computer gamers may recall Gorge as the coverboy to the September 2002 issue of Computer Gaming World.


Each figure will come with an assault rifle, which is the default weapon for the game, replacing the enforcer from previous games. Each figure also comes with the weapon which is the specialty weapon for that character - Damarus with a shock rifle and Gorge with a rocket launcher.


A figure of the character Mother V is being sculpted as an addition to the line and the tentative shipping date for these figures is scheduled for February 2003, though the shipping date is subject to change. We'll have more information for you as the release date approaches.


Both prototypes are 1:1 fully painted prototypes and final production pieces may differ slightly from these images. The figures were sculpted by Steve Kiwus Studios.


Damarus

Damarus

Gorge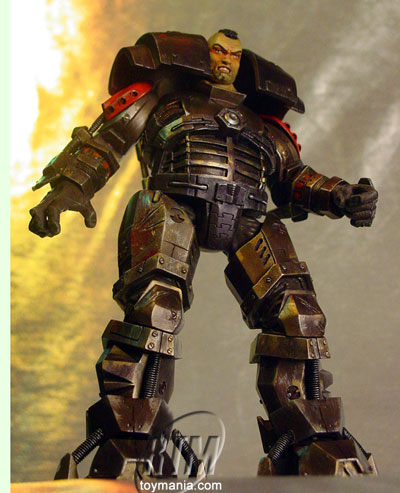 Gorge
Unreal Tournament 2003 was created by Digital Extremes, manufactured and marketed by Infogrames Incorporated under license from Epic Games, Inc. More information about the game can be found at Unreal.com.