JAKKS Wins Oppenheim Award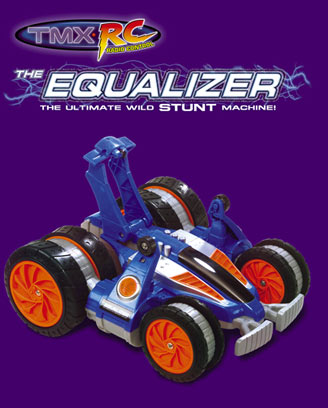 MALIBU, Calif. -- July 1, 2002-- JAKKS Pacific, Inc. announced today that TMX RC(TM) The Equalizer(TM) Radio Controlled Stunt Machine, one of the key introductions from the Company's newly acquired Toymax division, has received an Oppenheim Toy Portfolio Gold Seal Award.

"The Equalizer(TM) Radio Controlled Stunt Vehicle is an excellent example of the innovation we can expect from our new Toymax division, and we are so pleased that The Oppenheim Toy Portfolio has recognized it as a Gold Seal Award Winner," said Jennifer Richmond, vice president licensing, JAKKS Pacific, Inc. "This product will be brand new for the 2002 holiday season, and we expect kids and adults will love the unique play pattern of a radio control vehicle with repositioning wheels that allow The Equalizer to perform amazing, acrobatic stunts at incredible speeds."

The Equalizer is a remote control vehicle, which features a unique rotating wheel chassis that allows the vehicle to run with wheels in either a horizontal or vertical position. "Drivers" can command The Equalizer to perform seemingly impossible racing stunts such as wheelies, edge-side driving, power slides and many other feats, all at 9-volt powered speeds of over 13-feet-per-second. TMX RC(TM) The Equalizer(TM) Radio Controlled Stunt Vehicle includes the stunt vehicle and radio control remote. A 9.6-volt battery and charger, and 9-volt battery for controller are also required. Equalizer is currently in production and is expected to be available at Toys R Us, Target, Kay Bee Toys, Ames and other retailers nationwide mid-August 2002 and to retail for approximately $70.00.

The Equalizer will be featured in the 10th Edition of the best-selling Oppenheim Toy Portfolio: The Best Toys, Books, Videos, Music & Software for Kids. The Oppenheim Toy Portfolio was founded in 1989 as the only independent consumer review of children's media. Products selected as award winners have passed the test with child development experts as well as the ultimate judges, kids! Among the criteria used in evaluating a product are play value, safety, quality of design, and its ability to entertain and engage a child's mind. For more information, visit www.toyportfolio.com.

JAKKS Pacific, Inc. is a multi-brand company that designs and markets a broad range of toys and leisure products. The product categories include: Action Figures, Arts & Crafts Activity Kits, Stationery, Writing Instruments, Performance Kites, Water Toys, Sports Activity Toys, Vehicles, Infant/Pre-School, Plush and Dolls. The products are sold under various brand names including Flying Colors®, Road Champs®, Remco®, Child Guidance®, Pentech®, Toymax®, Funnoodle®, Laser Challenge(TM) and Go Fly a Kite(TM). The Company also participates in a joint venture with THQ Inc. that has exclusive worldwide rights to publish and market World Wrestling Entertainment(TM) video games. For further information, visit www.jakkspacific.com.

This press release contains statements that are forward-looking statements within the meaning of the Private Securities Litigation Reform Act of 1995. These statements are based on current expectations, estimates and projections about JAKKS' business based, in part, on assumptions made by its management. These statements are not guarantees of JAKKS' future performance and involve risks, uncertainties and assumptions that are difficult to predict. Therefore, actual outcomes and results may differ materially from what is expressed or forecasted in such forward-looking statements due to numerous factors, including, but not limited to, those described above and the following: changes in demand for JAKKS' products, product mix, the timing of customer orders and deliveries, the impact of competitive products and pricing and difficulties encountered in the integration of acquired businesses. The forward-looking statements contained herein speak only as of the date on which they are made, and JAKKS does not undertake any obligation to update any forward-looking statement to reflect events or circumstances after the date of this release.