Powerpuff Girls at Jack in the Box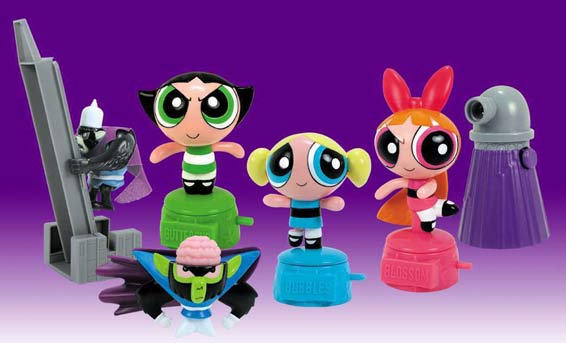 SAN DIEGO -- June 28, 2002 -- When they're not learning their ABC's at Pokey Oaks Kindergarten or ridding the streets of Townsville of vile villains, America's favorite pint-sized superheroes, The Powerpuff Girls, can be found at Jack in the Box(R) restaurants.

Beginning Monday, July 1, Jack in the Box restaurants will launch an exclusive promotional tie-in with "The Powerpuff Girls Movie," which punches its way into theaters on Wednesday, July 3. The promotion will include six action-packed toys that feature Townsville's own 5-year-old superkiddies and Mojo Jojo, the tots' evil monkey nemesis with a Mensa membership and a taste for mayhem. The toys include:
Punching Buttercup
Mojo Jojo's Volcano Viewer
Kung-Fu Bubbles
Bulging Brains Mojo Jojo
Karate Kick Blossom
Skyscraper Mo Mojo Jojo
Jack in the Box will offer one Powerpuff Girls toy with each purchase of a Jack's Kid's Meal(R), which includes a hamburger, cheeseburger or chicken pieces with french fries and a 16-oz. beverage.


"Jack is a big fan of The Powerpuff Girls and we're thrilled to be part of the girls' leap to the big screen," said Jody Sawyer, product manager for Jack in the Box. "Due to the cartoon's broad appeal to both girls and boys, we expect the promotion to be a blockbuster with our younger guests."


The Emmy Award-winning "The Powerpuff Girls," an original Cartoon Cartoon series from Cartoon Network, currently ranks among the network's top five highest-rated programs across households as well as a variety of kids demographics: kids 2-11, boys 2-11 and girls 6-11, to name a few. The television show and its characters have enjoyed such phenomenal cultural popularity -- including more than $500 million to date in merchandising retail receipts -- the property was recently named the 2001 International License of the Year and the 2001 Entertainment License of the Year.


Founded in 1951, Jack in the Box Inc. is the nation's first major drive-thru hamburger chain. The San Diego-based company operates or franchises more than 1,820 quick-serve restaurants in 16 states and has 43,000 employees.


Cartoon Network, currently seen in 81.1 million U.S. homes and 145 countries around the world, is Turner Broadcasting System, Inc.'s 24-hour, ad-supported cable service offering the best in animated entertainment. Cartoon Network's Web site (AOL Keyword: Cartoon Network) is located at http://CartoonNetwork.com.


The Powerpuff Girls, characters, names and all related indicia are trademarks of and (c) Cartoon Network.