Neon Genesis Evangelion Kubricks, Set H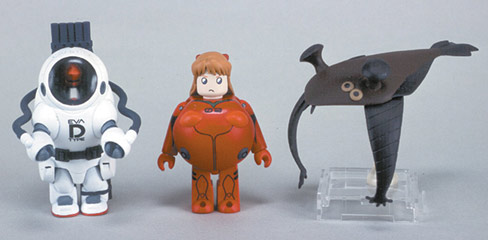 Medicom continues its building block figure line based on one of Japan's greatest anime epics with the Neon Genesis Evangelion (NGE) Kubrick Box Set H, the latest installment in the best-selling line that is available through Diamond Comic Distributors!

The popularity and success of Neon Genesis Evangelion knows no bounds - action figures, videos, DVDs, manga, T-shirts, posters, and more based on the acclaimed sci-fi property continue to be top sellers with its ever-growing following. These fervent fans will not want to miss out on the chance to show their support for the series and add these cute little mechas to their collections.

The Neon Genesis Evangelion Kubrick Box Set H captures three stars of this incredible sci-fi saga in the Kubrick style. These building-block type figures stand approximately 2" tall, and each comes with various character-specific add-ons and accessories. The set includes: EVA-02 (with "D" attachments for extreme conditions), Asuka Langley (in "D-type" plug suit), and The 8th Angel Sandalphon. Scheduled to ship in July 2002, all three figures come in a fifth-panel window box, and include connecting display bases with color backdrop scenes.

Fans can find these and other great products based on today's most popular anime at their local comics shop, or by contacting the Comic Shop Locator Service toll free at 1-888-COMICBOOK (1-888-266- 4226) or online at http://csls.diamondcomics.com.