Update: Lincoln Log World Record Attempt Succeeds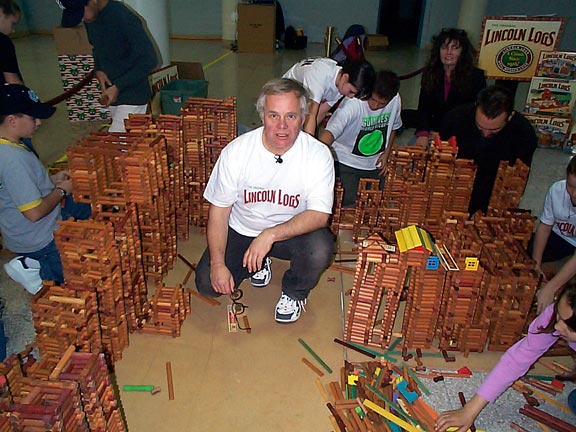 Rochester, NY - December 18, 2001 - Vern Larkin has enjoyed a lifelong affinity for Lincoln Logs, the classic American construction toy. Now, Mr. Larkin has made history with Lincoln Logs by establishing its first Guinness World Record. On Saturday, December 15, in his hometown, Mr. Larkin, joined by nearly 20 Rochester-area children, spent more than seven hours building a prodigious freeform structure using 10,000 classic brown stained wooden logs and land a spot in the 2003 Guinness Book of World Records.

Mr. Larkin's successful record attempt was witnessed by hundreds of onlookers and passersby in the lobby of the historic Sibley Centre in downtown Rochester. He began laying the foundation for the mammoth wooden structure at 11:00am and concluded by placing the 10,000th log on the record setting structure just after 6:00pm. Upon completion the structure reached nearly six feet at its highest point, three and a half feet wide, and nearly eight feet long with a perimeter of more than 20 feet. Some areas were covered with the classic Lincoln Logs green roof panels to cap it off.

This record setting event took place as a celebration of the 85th anniversary of Lincoln Logs, the classic wooden construction toy. Mr. Larkin's 10-year old son Davey was among the 20 children aged 7 to 13, assisting the 53-year old computer programmer and technician in his record setting attempt. The milestone accomplishment will be listed in the 2003 Guinness Book of World Records as the largest Lincoln Logs structure ever built. Upon completion, Lincoln Logs representatives presented Larkin and his helpers with a certificate recognizing their accomplishment.

"Establishing the first Guinness Record for Lincoln Logs is the realization of a dream for me," says Mr. Larkin. "From the time I was a young boy, my room - and my life - has been filled with Lincoln Logs. I am thrilled to learn that my name will go down in history as the first man to set the record for building the biggest Lincoln Logs structure." Now completed, Mr. Larkin?s record setting structure will be on view to the public in the Sibley Centre lobby, but roped off to prevent visitors from accidentally toppling it. Says Mr. Larkin "In the past I've built Lincoln Logs structures of more than 3,000 pieces, which were very sturdy. I expect this one to hold up equally well, even at 10,000 pieces."

K'NEX Industries, which manufacturers and distributes the 85 year-old classic American construction toy under license from Hasbro, supplied Mr. Larkin with thousands of Lincoln Logs for this spectacular event. According to Chris Campbell, Vice President of Worldwide Marketing for K'NEX, "Mr. Larkin's record attempt is a fun-filled way to represent Lincoln Logs' timelessness appeal. This holiday season marks Lincoln Logs 85th anniversary, and we are delighted that, in celebration of this milestone, Lincoln Logs will be recognized by the Guinness Book of Records for Vern Larkin's accomplishment, which demonstrates that Lincoln Logs continues to be enjoyed by children of all ages."

Discussing Mr. Larkin's record attempt, Ian Castello-Cortes, Vice President of the Guinness World Records brand from Guinness World Records, said, "Every year people from all over the world come up with ideas for record attempts, ranging from the sublime to the outrageous. Vern Larkin's record attempt is certainly original. With his successful attempt, he has become the very first Guinness World Record holder to use Lincoln Logs, the classic American toy, as a building medium."

Invented in 1916 by John Lloyd Wright, the son of famous American architect Frank Lloyd Wright, Lincoln Logs has brought the excitement of building into the homes and imaginations of young architects and builders for 85 years. With its simple building system, friendly styling and real-wood logs, this beloved brand has become a classic in creative play.

The historic Sibley Centre is located in the center of downtown Rochester, New York, at the corner of East Main Street & Clinton Ave. The Sibley Centre was once the home of The Sibley Department Store, one of the ultimate shopping experiences outside New York City.

For more information on Lincoln Logs and its many new activity playsets, consumers can visit www.knex.com or call 1-800-KID-KNEX.

Lincoln Logs is manufactured and distributed by K'NEX Industries under license from Hasbro, Inc. As manufacturers and marketers of the creative K'NEX building system, K'NEX Industries has created a revolution in the construction toy category. Since its introduction in 1992, K'NEX has become an important international marketer with distribution in over 44 countries. Winner of over 150 international awards and recognitions, K'NEX seeks to build young minds with its exciting product line and critically acclaimed K'NEX Education program.