At Radio Shack: Croc Hunter, Jimmy Neutron, Barbie



FORT WORTH, Texas, Dec. 10 -- Just in time for holiday shopping, RadioShack Corporation is the exclusive consumer electronics retailer of two radio control (RC) vehicles that are sure to be popular among fans of "The Crocodile Hunter" TV show on the Animal Planet channel and the soon-to-be-released "Jimmy Neutron: Boy Genius" movie. In addition to being the place to shop for everything "RC" for girls and boys, RadioShack has the exclusive Barbie B-Smart Notebook PC.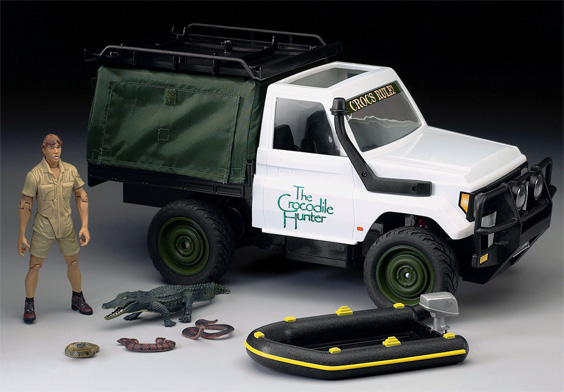 The Crocodile Hunter(TM) Radio Control Truck

Youngsters can venture into the Outback with famous Aussie reptile wrangler Steve Irwin in RadioShack's exclusive radio control replica of his rugged adventure truck. The popular Irwin, who is director of the Australia Zoo in Queensland, Australia, hosts Animal Planet's "The Crocodile Hunter." A 7-function remote lets the user drive the truck forward, backward, and turn left and right. The battery-powered truck is 16-1/2 inches long and can achieve speeds up to 840 feet per minute. Its spring suspension handles bumpy terrain, and a "bull bar" on the front protects the truck from "jumping kangaroos" and other obstacles. An included 6-inch-tall Steve Irwin action figure fits in the driver's seat. Also included is a detachable raft that floats, three toy snakes and a toy crocodile. The Crocodile Hunter truck is suggested for children ages 6 and older and retails for $59.99.

Jimmy Neutron: Boy Genius(TM) Radio Control Ultra Orb

RadioShack's exclusive radio control "Ultra Orb" stunt machine looks just like one of the futuristic vehicles seen in the new movie, "Jimmy Neutron: Boy Genius," which opens Dec. 21, 2001, in theaters nationwide. The included 7-function remote allows the user to command the Ultra Orb to perform quick and wild stunts, roll along, spin around, tumble and do side-spinning stunts on its side rollbar, and it is driven by Jimmy Neutron. The battery-powered Ultra Orb is 12-1/2 inches long, and can travel up to 550 feet per minute. The Ultra Orb is suggested for children ages 6 and older and retails for $39.99.

RadioShack Is RC Headquarters for the Holidays

RadioShack offers over 30 exclusive radio control cars, trucks, boats and unique machines for all ages and almost any budget. Consumers can test drive some of the coolest RadioShack RC vehicles by logging on to the company's e-commerce Web site at http://www.radioshack.com and playing "RC Riot 2 - Extreme Virtual Racing." The company also stocks a complete selection of high-capacity battery packs and chargers, and offers replacement parts and accessories for many RC vehicles.

Barbie(TM) B-Smart(TM) PC Notebook Electronic Learning Computer

The super-slim laptop-style computer for girls is available only at RadioShack. It features a full-size keyboard, mouse and mouse pad, LCD screen and sound. The battery-powered computer comes with 50 fun things to do, including nine computer tools and skills activities; 12 games and memory teasers; 12 math and logic games; and 17 vocabulary, grammar and punctuation games. Explore more cool things by adding expansion cards (sold separately). The Barbie B-Smart PC Notebook is suggested for ages 5 and older and retails for $69.99.

In addition, RadioShack offers two other Barbie toys. The Radio Control Barbie Jeep(R) Wrangler(TM) lets young girls take their favorite Barbie doll on a backyard adventure. The battery-powered jeep is 15 inches long and features working headlights. The cell-phone-style remote allows the user to move Jeep forward, backward and change direction. It is suggested for ages 4 years and older and retails for $29.99.

The Barbie "Shop-With-Me" talking cash register is great for young buyers and sellers. The battery-powered cash register displays unit price, purchase price and change. A handheld scanner reads "bar codes" from included price cards. Use the built-in microphone to make store announcements and request price checks. Includes play money and pretend credit cards. The "Shop-With- Me" cash register is suggested for ages 3 and older and retails for $49.99.

InsectoBots Move and React Just Like Real Insects

Clever, 6-inch-long robotic creatures respond and move to light, touch, sound and each other. Battery-powered InsectoBots have "sci-fi" bodies and their own personality - with flashing lights, sounds, and moving arms and legs. They even respond to the average TV remote - a great way to surprise unsuspecting parents and friends. An on/off switch brings each InsectoBot under control. Four different InsectoBots are available at RadioShack. Collect them all and quadruple the fun. Each retails for $19.99.

About RadioShack

RadioShack Corporation is one of the nation's largest retailers of consumer electronics, and offers both on- and off-line shopping capabilities. With more than 7,300 stores and dealers, RadioShack sells more wireless telephones, telecommunications products and electronic parts and accessories than any other retailer. It is estimated that 94 percent of all Americans live or work within five minutes of a RadioShack store or dealer. For more information, visit the RadioShack Web site at http://www.radioshackcorporation.com.

The Crocodile Hunter (C) 2001 Discovery Communications, Inc. All rights reserved. Animal Planet logo is a trademark of DCI. The Crocodile Hunter name and characters are trademarks and copyrights of Best Picture Show Co. Jimmy Neutron: Boy Genius (C) 2001 Paramount Pictures and Viacom International, Inc. All rights reserved. Nickelodeon, Jimmy Neutron: Boy Genius and all related titles, logos and characters are trademarks of Viacom International, Inc. Jeep is a registered trademark of DamilerChrysler Corp. Barbie is a trademark owned and used under license from Mattel, Inc.