DC LEGO, Batman: Arkham City, Doctor Who, Marvel Minimates at Big Bad Toy Store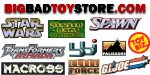 December 15, 2011 - (Sponsor Announcement) - Online retailer BigBadToyStore.com has several new item of interest to collectors:

-------------
NEW PREORDERS
-------------

BATMAN: ARKHAM CITY SERIES 02 - SET, SINGLES DC Direct has just announced a new wave of figures from the hit video game. This assortment includes Batman in Detective Mode, Catwoman, Hush, the Riddler and Jervis Tetch (the Mad Hatter), and we have them listed at $20.99 each for singles, or $94.99 for the set of 5.

TRANSFORMERS ASIAN REISSUES - RODIMUS PRIME, SIDESWIPE Two more import reissues are on their way soon. These Asian exclusives are G1 reissues of Rodimus Prime and Sideswipe, and we have them priced at $62.99 and $47.99, respectively. Note that the pictures that are currently up are stock photos, and that we are waiting on actual release pictures.

KM-01X KNIGHT MORPHER COMMANDER-X Mastermind Creations has announced a new version of the Knight Morpher Commander figure. This one is done in violet to match the Shattered Glass Optimus Prime versions, and even has a translucent back half. This figure is limited to 500 pieces worldwide and is priced at $134.99.

STAR WARS LEGO We have listings up for a number of new Star Wars LEGO sets. A new TIE Fighter, Droid Escape, Geonosian Cannon, Sebulba's Podracer & Tatooine and more are all up now - take a look at them at the link.

DC SUPER HEROES LEGO LEGO is also releasing a number of DC Super Heroes sets. The Batcave, Superman Vs. Power Armor Lex, Green Lantern, Catwoman Catcycle City Chase and more - check them all out at the link.

ROCKY FIGURES - SETS, SINGLES NECA has a new series of figures from the Rocky movies, and the first pair comes from the first film. The figures of Rocky Balboa and Apollo Creed will come in both regular and fight-damaged versions, and we have them available in a number of ways; you can get a set of four (one each of each version of each figure) for $64.99, or you can opt for a random pair -- you will get a Rocky and an Apollo, but they may be regular, bloody or one of each, and the pair is listed at $33.99. We also have each version of each figure listed singly, and they are priced at $17.99 apiece.

MARVEL MINIMATES WAVE 44 SET OF 8 The first of two new assortments of Minimates is Series 44. It includes Thor, Iron Man, Hulk, Captain America, Ant-Man, Giant-Man and two Kree Sentry robots. Most of the figures are new sculpts and/or have new detailing, and the set of 8 is priced at $29.99, $6 off the MSRP.

MARVEL MINIMATES 'BEST OF' SET OF 8 Diamond is also releasing a 'Best Of' set of 8, including Wolverine, Sabretooth, Spider-Man, Green Goblin, Iron Man, Captain America, Thor and the Thing. This set is great for starting a new collection or filling holes of figures previously missed; we have it listed at $29.99, $6 off the MSRP for the wave.

TRANSFORMERS DOTM EZ COLLECTION STARSCREAM KERO KERO ACE EDITION This new lime green day-glo version of Starscream is a Japanese magazine exclusive, but one of our sources is able to procure us a small supply. We have this new figure listed at $19.99, and expect it to arrive in January 2012.

BRAVE GOHKIN 036 TEKKAMAN & PEGAS - LIMITED METALLIC COLOR VERSION A new version of this fantastic set is now up for pre-order. It has a new Metallic paint scheme and is listed at $349.99.

DOCTOR WHO CLASSIC - THE IMAGE OF THE FENDAHL COLLECTOR SET This new set comes from the Fourth Doctor's tenure, and includes Leela, a baby Fendahl, an adult Fendahl and a skull with stand. This set is priced at $49.99 and should arrive early in January.

NEW JAPANESE EXCLUSIVE FIGURES Bandai has announced a number of new exclusive import figures that are releasing soon. We have the Wild Tiger One Minute exclusive for $109.99, the Kamen Rider Fourze Rocket Statues figure for $89.99, the Rider Hero Series MX Movie Taisen Exclusive Set at $134.99, the Saint Seiya Appendix Lizard Misty at $109.99, the One Piece Luffy's Straw Hat in Medium at $139.99, the Busou Shinki Altlene MMS Type at $159.99 and the Chara Gumin 1/6 Scale Lina Inverse Color Resin Kit at $239.99.

REVOLTECH EDWARD ELRIC The first Revoltech figure from Fullmetal Alchemist is Edward Elric. This figure should be released this coming March, and is priced at $54.99.

REVOLTECH TAKEYA #001 TAMONTEN This new line comes from art by Takeya and shows Tamonten, one of the four Guardian Kings of Buddhist temples. The figure comes with multiple accessories and is listed at $58.99.

SONIC THE HEDGEHOG 20TH ANNIVERSARY - BOX SET, SERIES 01 SINGLES We have listed a new box set for the Sonic 20th Anniversary. It includes Classic figures of Sonic, Super Sonic, Amy and Tails, and is priced at $33.99, $6 below MSRP. We also have the Modern Series 01 singles available - Sonic, Tails, Knuckles, Silver and Shadow, priced at $8.99 each.

BACK TO THE FUTURE RETURNING ITEMS We have just learned that Diamond will be doing new runs of two of the more popular "Back to the Future" items. The Marty's Hat Replica is available for pre-orders at $22.99, as is the 1:15 Scale Delorean Mark I Replica with lights and sounds, priced at $44.99.

DRAGON AGE II FLEMETH DRAGON STATUE The Witch of the Wilds makes a return in the second game of the series, and this statue shows off one of the little secrets she's been hiding. This statue stands 4.5" tall with a 12" wingspan, and is priced at $44.99, $5 below the MSRP.

DOMO 4" VINYL BLACK LIGHT FIGURES Dark Horse has announced a new round of Domo figures. These 4" pieces are black light versions in green, blue, orange, pink, purple, red or yellow, and are priced at $13.99 each

RYOMOU SHIMEI MAID 1/6 SCALE COLDCAST STATUES - WHITE, BLACK This little lady from the Ikki Tousen series is being released by Aizu in a maid uniform, and done in white or black versions. Each figure is listed at $264.99.

ULTRAMAN SUB VTOL Kaitendo is releasing a 40 cm version (about 15.75" long) of the VTOL Sub from Ultraman. This piece is to arrive in March, and is priced at $299.99.

SUCKER PUNCH KATANA SWORD REPLICA Master Cutlery is producing a new replica sword based on the katana from "Sucker Punch". We have this piece listed at $154.99, and expect it to release soon.

SUPER ROBOT CHOGOKIN MAGIKING The next figure in the Super Robot Chogokin line is Magiking from the Power Rangers Mystic Force line. It keeps the articulation and die-cast qualities of the SRC line, and is listed at $79.99.

STAR WARS DARTH MAUL FIGURE CLOCK This collectible is a great desk item for any Star Wars Fan. It is listed at $25.99, and is to arrive this coming April.

CM TOYS 1/6 SCALE MUSCULAR MALE BODY 1/6th scale collectors and customizers now have another option for figure bodies. The new Muscular Male Body from CM Toys comes in Tan, Caucasian and African-American, and is priced at $69.99.

NEW Y-MSF FIGURES We have four new listings from Y-MSF. The 1962 6" King Kong Gorilla is priced at $55.99, the 1967 6" King Kong Gorilla at $53.99, the 1964 6" Godzilla at $44.99 and the 6" Defeated Hedorah at $44.99 as well.

------------
NEW ARRIVALS
------------

TRANSFORMERS PRIME DELUXE SERIES 01 - CASE, SET, SINGLES Our first shipment of Transformers Prime figures has arrived. This case includes four of Bumblebee and two each of Starscream and Arcee, and is listed at $99.99. We also have these figures listed as a set of three for $44.99, and singly at $10.99 - $19.99 each.

PREDATORS 7" FIGURE SERIES 04 - CASE, SET, SINGLES This new case assortment includes five each of the Predator Shaman and City Hunter Predator and four of the Boar Predator. We have the case of 14 listed at $199.99 ($66 below MSRP), and a set of 3 (one of each figure) priced at $47.99 ($9 off the MSRP). We also have singles of the Predator Shaman and City Hunter Predator listed, priced at $16.99 each.

MORTAL KOMBAT 2 CLASSIC NINJA 4" FIGURE SERIES 01 - CASE, SET, SINGLES This assortment includes Reptile, Sub-Zero and Scorpion, and the case (four of each figure) is listed at $99.99. We also have them as a set of three for $29.99, or singly at $10.99 each.

GI JOE 2012 SERIES 03, 04 SINGLES We've got a few singles left over from our first shipment of the 2012 Series 04 sets. We have the new Steel brigade Version 02, Techno Viper, Hazard-Viper, Cobra the Enemy and the Renegades versions of Ripcord, Scarlett, Firefly, Snake Eyes, Cobra Trooper and Tunnel Rat. These figures are listed at $7.99 - $12.99 each, so use this chance to fill the holes in your collection!

HERCULES DR. CRANK, STRUCTOR The newest releases in TFC Toys' Hercules series are now in stock. Dr. Crank is a hook truck that transforms into a robot and also becomes the
upper torso of the Hercules gestalt; Structor is an earth mover that becomes a robot and the right leg of Hercules. We have both figures ready to go, priced at $99.99 each.

MARVEL MASTERWORKS SENTINEL FIGURE - REPAINT VERSION The magenta and purple Sentinel from the comics has arrived to menace your Marvel Universe 3.75" figures. This figure stands 16" tall and is listed at $59.99.

BLACKEST NIGHT WHITE LANTERN 1/4 SCALE BATTERY & RING REPLICA The final release in the 1/4 Scale Lantern line has arrived. The White Lantern of Life lights up, as does its ring, and both pieces fit on the special acrylic display stand. We have this item listed at $29.99, saving you $5 off of the MSRP.

MOTU CLASSICS For the benefit of our international and other customers we have a small stock of the new Masters of the Universe Classics items. Snout Spout is listed at $31.99, while Swift Wind is listed at $47.99.

SUPER ROBOT CHOGOKIN GOD RAIDEEN The upgraded form of Raideen is the latest release in the Super Robot Chogokin line. This figure comes with alternate hands, multiple weapons and the parts to turn him into God Bird, and we have the figure listed at $58.99, saving you $3 off the MSRP.

ROCKMAN ZERO 16 CM PLASTIC KIT FIGURE This great version of Megaman has arrived. The figure kit comes with two facial expressions and 3 eye sets, and forms a 5" tall figure with 15 points of articulation. We have Rockman Zero priced at $29.99.

ARH STUDIOS STATUE SHIPMENT Four new pieces from ARH Studios have arrived. We have the 1/4 Scale Athena statue at $364.99, the 1/4 Scale Pocahontas at $274.99, the 1/4 Scale Thor statue at $464.99 and the 1/4 Scale Medusa statue at $599.99. Take a peek at these fantastic pieces at the link.

NYCC 2011 EXCLUSIVE DEADPOOL CORPS MINIMATES RESTOCK We have received a small restock shipment of the Deadpool Corps Minimates box set. It includes Deadpool, Championpool, Kidpool, Lady Deadpool and a bonus Headpool, and is priced at $19.99

CLOVERFIELD MONSTER The monster from the hit movie is now back in stock. This figure is priced at $139.99, $10 off the MSRP.

JABBA'S THRONE EXCLUSIVE This "Return of the Jedi" set is back in stock as well. It contains Jabba, his throne, Oola and Salacious B. Crumb, and is listed at $39.99.

NEW CHOPSTICKS We have six different pairs of chopsticks now in stock. We have Tyrannosaurus Rex, Triceratops and Pteranodon under the Dinosaurs line, and Alligator, Giraffe and Elephant under the Animals line. Each pair has the head or body of the creature at the holding end, and each pair is listed at $9.99.

STAR WARS ICE TRAY RESTOCK We have also received a small shipment of the Han Solo in Carbonite and R2-D2 Silicone Ice Trays. Each tray is listed at $9.99.

BigBadToyStore.com