July 23: Marvel Toys at McDonald's
click to see larger image
July 2010 - The nice folks at the development house have shared these images of prototypes for the action figures for an upcoming McDonald's Happy Meal promotion. The figures in the promotion include: Iron Man, the Hulk, Wolverine, Spidey, the Thing, the Torch, Captain America, and the Surfer.

Again, these are prototypes, which means there could be changes made to the toys before they arrive at McDonalds - see the Iron Man picture below for an example: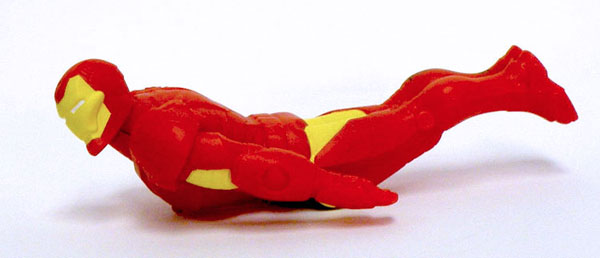 Look for these toys at your local McDonald's starting on July 23rd.

The action features in the toys are:

- The Thing yells "It's Clobberin' Time!" with an electronic sound chip!


- Captain America throws his mighty shield!


- Spider-Man can wall-crawl magnetically to metal surfaces!


- Iron Man rolls in a flying position with a pull back mechanism!


- The Human Torch is made of translucent plastic and lights up with an LED!


- Wolverine extends his adamantium claws! All right. They're really plastic.


- The Hulk slams his fists together!


- The Silver Surfer can detach from his surfboard!