Spring Clearance Sale at Big Bad Toy Store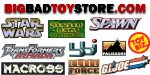 April 5, 2010 - (Sponsor Announcement) - Online retailer BigBadToyStore.com has several new items of interest to collectors:

---------------------
SPRING CLEARANCE SALE
---------------------

Prices have been cut on hundreds of items and we have over 2000 total items on sale! Over 500 of these items have been discounted between 50% and 90% off our list price. We've also added some bonus sale menus with additional savings:

40% Off GI Joe Movie Items
20% Off GI Joe 25th Anniversary
30% Off Transformers Busts
30% Off Star Trek Movie

The main listing for all 2000 sale items can be found here:
http://www.bigbadtoystore.com/bbts/content.aspx?content=18

The bonus menu with GI Joe and more can be found here:
http://www.bigbadtoystore.com/bbts/list.aspx?list=1056

----------------
NEW T-SHIRT MENU
----------------

We've recently expanded our selection to include a variety of T-Shirts & Apparel closely related to the toys and figures you all know and love. We currently have a variety of Star Wars, DC, Marvel, Blackest Night, Ghostbusters, Hangover and many other shirts listed. We'll be adding shirts from many other properties soon, also be sure to check out the New Era Caps from Transformers and GI Joe. There is a new graphic link on the left menu bar, or you can view the menu here

------------
NEW ARRIVALS
------------

MMC-01 KNIGHT MORPHER COMMANDER Master Mind Creations has released their first figure, the shape-changing Knight Morpher Commander. This piece changes from a red and blue robot into an Industrial-era locomotive, and it is listed at $84.99.

STAR WARS COMIC TWO-PACKS 2010 WAVE 3 - CASE, SINGLES We've had a bit of an on-again-off-again situation with this wave of Star Wars Comic Two-Packs, but they have indeed arrived at long last. We have the case of eight two-packs, including one each of Bogey Squad, Commander Cody's Lieutenant & Trooper, Black Hole Stormtrooper with Hologram, Tholme & Tra'Saa, Exar Kun & Ulic Qel-Droma, Darth Krayt & Sigel Dare, Luke Skywalker & Lumiya and Kyle Katarn & Yuuzhan Vong listed at $109.99. We also have singles available of all except Exar Kun & Ulic Qel-Droma, priced at $16.99 to $19.99 each.

ENCORE REISSUE METROPLEX This classic G1 figure sold out a while back and finally been restocked, we have inventory available at $94.99. Give all your mini-cars a great place to park on the shelf - take a look here

SCI-FI REVOLTECH - #001 ALIEN, #002 DAIMAJIN The first two pieces from Kaiyodo's Sci-Fi Revoltech line have arrived. The Alien (from the classic movie of the same name) and Daimajin (a Japanese movie monster) each comes with multiple accessories and are priced at $36.99.

POKEMON 2010 MULTI-PACKS, SINGLES We've received a shipment of new Johto Pokemon figures. We have the Gold & Silver Basic Series 15 available as a case of 12 figures, including Chikorita, Eevee and Cyndaquil, priced at $59.99. Gold & Silver Multi-Pack Series 16 is available as a set of 3 three-packs, each including two regular Pokemon and a gold-colored version of a third figure. This set is listed at $34.99.

TEXTILE POSTERS A large shipment of textile posters has arrived from LPG International. We've got printed cloth posters available in a variety of styles, from Bettie Page, to DC Comics, to various bands such as Pink Floyd, Led Zeppelin and Metallica, to Bob Marley and Che Guevara. These prints measure 30" by 40" and are priced at $14.99 each.

COLOUD MARVEL HEADPHONES - BBTS MENTIONED ON G4TV The new Marvel Headphone sets from Coloud have arrived. The Wolverine and X-Men Retro sets sold out, but we've got more on the way, so feel free to put in your pre-order; we currently have limited stock of the Iron Man, Hulk and Punisher sets, priced at $39.99, and we will have new pre-orders up for those as well once they sell out. Attack of the Show on G4TV was nice enough to mention us as a good place to buy these.

IRON MAN 2 - 3.75" SINGLES We've restocked our singles from the new movie, and we have almost every 3.75" figure in stock that is currently available - check out Iron Man in his Power Assault Armor, his Mark III Armor, his Classic Armor and many more.

CDMW-05 CONSTRUCTION BRIGADE POWER PARTS HANDS & GIANT MAGNA LASER CrazyDevy's latest add-on set has arrived. This set gives G1 Devastator articulated hands as well as a large-size version of his original gun, and it is listed at $39.99.

MCQUARRIE CONCEPT R2-D2 & C-3P0 We've managed to get a number of this classic set from Star Wars Celebration IV at a good price, and we're passing it along to you. This set includes McQuarrie Concept versions of C-3P0 and R2-D2 as well as a collectible coin, and is priced at $13.99.

MACROSS FRONTIER 1/60 DX VF-25F TORNADO ALTO CUSTOM This new chogokin figure is done in a rear wing style in off-white and light purple and features two removable laser cannons. We have it available now, priced at $224.99.

-------------
NEW PREORDERS
-------------

HOT TOYS 1/6 SCALE PERSEUS Hot Toys has announced their upcoming Perseus Movie Masterpiece 1/6 scale figure. If it stays true to the rest of the line, this figure should have a spot-on Sam Worthington face sculpt, a detailed cloth costume and multiple accessories, and we have it listed at $199.99, although this price may decrease once a domestic supply is found.

NEW ERA CAPS - AUTOBOT, DECEPTICON, COBRA SYMBOLS We've listed a number of new baseball caps from New Era Cap Company. We have the Autobot Symbol on either red or black, the Decepticon symbol on Black or Gray, and the Cobra symbol on blue or black. Each hat is listed at $27.99, and come in hat sizes ranging from 7 to 8-1/8. Check out the hats under the menus at the link for more information.

GI JOE CLUB EXCLUSIVES
We've listed pre-order for a number of new GI Joe Collector Club figures. For 2009, we have the 12" Lost Talker Marine listed at $89.99 and the Iron Grenadier Frogman Undertow at $31.99. 2010 brings the 12" Urban Adventurer Figure and Uniform Accessory set at $74.99 with the Uniform Accessory set by itself at $54.99, as well as a 3.75" Classic Big Lob figure at $34.99, an Adventure Team Commander & Dr. Venom two-pack at $64.99, and an Air Adventurer with Helicopter and Land Adventurer with 6 Wheel ATV, each priced at $52.99.

TRANSFORMERS COLLECTOR CLUB EXCLUSIVES We've also listed some TFCC Exclusive figures. We have the current 2010 exclusive Dion with Cop-Tur figure listed at $44.99, with previous figures Astrotrain and Nightbeat at $124.99 and $74.99, respectively.

DOCTOR WHO - FOURTH DOCTOR & ELECTRONIC TARDIS SET This fantastic pairing matches the Tom Baker Fourth Doctor figure with the new Lights and Sounds Electronic TARDIS, to the delight of fans everywhere. This set is to arrive next month, and we have it listed at $49.99.

STAR WARS 12" 501ST LEGION TROOPER Sideshow's latest 12" Star Wars announcement is the 12" 501st Legion Clone Trooper. This figure comes dressed in blue and white armor and includes a blaster and a rifle, and we have it listed at $84.99, saving you $5 off the MSRP.

MLB SPORTSPICKS ELITE TEAMS McFarlane's new Sportspicks Elite Teams pre-orders are now available. These assortments feature multiple figures from the same team in matching uniforms, and the first four tems are the New York Yankees, the New York Mets, the Boston Red Sox and the Philadelphia Phillies. Each assortment consists of 4-5 figures, and we have them listed by the case of 8 at $79.99, or singly at $10.99 each.

22" CONAN: THE PRIZE DIORAMA This new Conan diorama from Sideshow shows the Barbarian warrior speeding away with a rescued amsel in his grip. This piece measures 22" tall and is listed at $274.99, a savings of $15 off the MSRP.

IRON MAN 2 COSBABIES - SET, SINGLES We've now got singles listed to go along with our set of Iron Man 2 Cosbabies. You can mix and match your favorite figures, choosing from War Machine, Whiplash, Nick Fury, the Black Widow, Iron Man Mark VI, Iron Man Mark IV and Tony Stark in Mark IV Armor, at $10.99 each, or pick up the set of 7 for $69.99.

BANPRESTO MINIFIGURES & PRIZE FIGURES We have just listed a number of prize figures and minifigures from Banpresto. We have entries under Dragon Ball Z and Dragon Ball Kai, One Piece, Naruto, Evangelion and more - check out the menus at the link for more information on these new figures.

TF: ROTF RD-27 NEST SKYSTALKER Pre-orders are now available for RD-27, the import version of NEST Skystalker. This figure should be similar to the US release, although it may possibly contain color or other differences, and it is currently listed at $19.99.

TF DISNEY LABEL BUZZ LIGHTYEAR MONOCHROME The monochrome version of Disney Label Buzz Lightyear has been announced. This version will forgo his normal bright colors, but will be right at home with the Monochrome versions of Mickey and Donald. We have Buzz listed at $44.99 - place your pre-order for him before they're gone.

BigBadToyStore.com