Masterpiece Ghost Starscream, Venture Bros., DCUC, Doctor Who at Big Bad Toy Store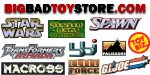 March 5, 2010 - (Sponsor Announcement) - Online retailer BigBadToyStore.com has several new items of interest to collectors:

-------------
NEW PREORDERS
-------------

MP-03G - MASTERPIECE GHOST STARSCREAM REVEALED We've just received images of the upcoming Masterpiece Ghost Starscream and it looks great! They did a good job with all the clear parts and this will be a nice addition to the MP lineup. This figure is up for preorder at $124.99 here.

DC UNIVERSE CLASSICS SERIES 15 - SET OF 8, SET OF 9, CASE ASSORTMENTS We don't have any details yet on the DC Universe Classics Series 15, but we do know how many figures will be includes, and have listed them on our site. We've got them as a set of 8 (including both versions of one of the figures) with the BAF pieces, at $119.99, and as a set of 9 (with both versions of both 'varianted' figures) at $134.99. We've also got both of the Series 15 Case Assortments of 10 listed, at $139.99 each.

KICK-ASS - FIGURES, ACCESSORIES From the upcoming 'Kick-Ass' movie come these new figures and accessories, courtesy of Mezco. Kick-Ass and Hit-Girl are both available as 12" figures, at $34.99 each; we've also listed a wide variety of accessories, like keychains, bumper stickers, backpacks and more. Take a peek at the new items at the link.

SW CLONE WARS ANIMATED 2010 WAVE 3 - CASE, SET, SINGLES The newest wave of Clone Wars Animated figures includes Obi-Wan and Anakin in Cold Weather Gear, Commanders Bly and Stone, Magna Guard, Rex with Heater Pack and Firefighter Droid, and we have the set of 7 listed at $74.99. The case assortment adds Cad Bane, Anakin, Clone Commander Cody, Yoda and Clone Echo and is listed at $99.99. We've also got singles listed of the figures, priced at $11.99 - $13.99 each.

DOCTOR WHO - SEVENTH DOCTOR WITH CLASSIC ELECTRONIC TARDIS This special edition will come with a redecoed Sylvester McCoy figure as well as an electronic TARDIS with lights and sounds. Priced at $49.99, this is one set that no Doctor Who fan will want to miss.

VENTURE BROS 8" FIGURE SETS Bif Bang Pow has announced a whole slate of new 8" Mego-type figures. Two sets of Venture Bros. figures are ready for pre-order; Dr. Venture and Brock Samson make up Series 1 and are priced at $37.99 for the set. The Monarch and Dean venture are in assortment 2, and are also priced at $37.99 for the pair.

GIANT TF, SW, MARVEL DC WALL STICKERS & MURALS Room Mates is releasing a wide variety of peel-and-stick appliques and murals to dress up bookshelves, room walls and more. We've got Spider-Man, Batman, Star Wars, Star Trek, GI Joe, Transformers, Spongebob Squarepants, Superman and many more - check out all of the newly-listed items at the link. 50+ versions available.

BLACKEST NIGHT - HEROCLIX STARTER PACK Neca brings us an exciting new set of Heroclix figures - This starter game includes everything a player needs to play HeroClix, including figures, map, rules and more. Starter set is priced at $22.99.

GI JOE - 12" BEACHHEAD FIGURE Sideshow's latest 12" GI Joe figure is Beachhead the Ranger. This figure comes loaded with a whole host of detailed weaponry and accessories, and is listed at $113.99, saving you $6 off the MSRP.

TWILIGHT ZONE 8" FIGURE SETS Two sets of Twilight Zone 8" figures are also on the way. The first set includes the Gremlin and Jason Foster, while the second has Kanamit and the Devil; each set of two is listed at $37.99.

FLASH GORDON 8" FIGURE SET Flash Gordon and Ming the Merciless are also on their way to 8" form, courtesy of Bif Bang Pow. These two will be dressed in their movie looks, and the set of 2 is priced at $37.99.

NIGHTMARES OF H.P. LOVECRAFT DAGON 14" STATUE SOTA Toys' latest entry in the Nightmares of H.P. Lovecraft line is a 14" statue of Dagon. This piece reflects his Lovecraftian style image as opposed to his god of grain image from long ago, and he is listed at $229.99, $20 off the MSRP.

'THE PRINCESS BRIDE' DREAD PIRATE ROBERTS SWORD REPLICA Factory Entertainment is producing a replica of the Dread Pirate Roberts sword from 'The Princess Bride'. This weapon will measure 32" long and include a leather scabbard, and is priced at $269.99, a savings of $30 off the MSRP.

GI JOE SNAKE EYES VS. RED NINJAS DIORAMA Sideshow's newest GI Joe Diorama features Snake Eyes in battle with a clan of Red Ninjas. This piece measures 12" tall by 15.5" wide, and is listed at $274.99, saving you $20 off the MSRP.

TF ROTF - WONDERFEST EXCLUSIVE CLEAR BURNING THE FALLEN Takara's new Wonderfest Edition of the Fallen is cast in clear gray and orange colors, unlike the American version which only had the orange parts cast in clear plastic. This import piece is priced at $134.99 and is expected to arrive later this month.

TEKKEN - 1/4 SCALE HEIHACHI MISHIMA MIX FORMAT FIGURE heihachi Mishima is one of the most popular and recognizable characters from the Tekken franchise, and Triad Toys aims to bring him home to you. The first of their new MIX Format figures, Heihachi will be dressed in a cloth costume and includes an acrylic display stand; the figure is listed at $229.99 ($10 off MSRP) with a May arrival date.

MUPPET SHOW UNCLE DEADLY - 3 VERSIONS We've got a number of older figures on the way - a perfect chance to fill holes in your collection. All three versions of Uncle Deadly from the Muppet Show (regular, Flashback GITD and Steppin Out Tuxedo) are on their way, priced at $9.99 each - don't miss out on any of the versions of this previously-exclusive figure.

CELEBRATION IV MCQUARRIE R2-D2 AND C-3P0 The shipment is also to contain the Celebration IV McQuarrie Concept R2-D2 and C-3P0 two-pack. This piece used to be exclusive, but now they'll be here, priced at $13.99 per set.

ST:TNG 'ALL GOOD THINGS' PICARD The older version of Captain Picard from the 'All Good Things' finale to ST:TNG is also on his way, and with a great price for you - this figure is listed at $9.99, down from the previous price of $15.99.

'NOW PLAYING' FIGURE RESTOCK Finally, a number of the figures from Series 1 & 3 of the Now Playing line by SOTA are on their way. Series 1 includes Darkman, the Nightmare Demon from 'An American Werewolf in London' and Toxie, the Toxic Avenger; Series 3 includes both the Brown and Gray versions of the Dog Soldier Werewolf, Meg Mucklebones from 'Legend' and Baron Vladimir Harkonnen from 'Dune'. Each of these figures is listed at $11.99, saving you $8 each off the original MSRP.

TF G1 SEASONS 3 & 4 DVD BOX SET This set completes the current release of the TF G1 cartoons on DVD. This final set is listed at $28.99, and incldues the Rodimus Prime year, as well as the Rebirth of Optimus Prime from Season 4's three-episode miniseries.

GREMLINS CRAFTLABEL STATUES - GIZMO, STRIPE Jun Planning's CraftLabel line continues with these statues from 'Gremlins' This line uses fabric, resin, PVC and metal to create their pieces, and the 6" Gizmo statue is listed at $57.99, with the 12" Stripe statue at $86.99.

AGE OF CONAN WEAPON AND ARMOR LATEX REPLICAS Museum Replicas has announced a line of latex LARP-style weaponry and armor from the 'Age of Conan' game. This pieces look like the real thing but are safe for play, and we've got a wide variety of weapons listed, from axes to swords, with some armor, wristguards and greaves thrown in for good measure.

FROSTMOURNE SWORD PROP REPLICA This replica of the sword Frostmourne from World of Warcraft is to measure 47" long with a 28" blade and will include a display mount and more. This blade is listed at $474.99, saving you $55 off the MSRP.

HIGHLANDER REPLICAS We've just listed a number of new replicas from the 'Highlander' franchise. We've got replicas of Connor and Duncan MacLeods' Katanas at $224.99 ($75 off MSRP) each, Damascus versions of both blades at $349.99 ($102 off MSRP) each, and even a Sword of Kurgan, also at $224.99 (also $75 off MRP).

DEVIL MAY CRY RED QUEEN PROP REPLICA This replica of Nero's Red Queen sword from DMC 4 will measure 42" long and includes details like a (non-working) fuel injection system. This blade is listed at $314.99, and should arrive this month.

LOTR - SWORD OF SAMWISE - REGULAR AND MUSEUM COLLECTION VERSIONS United Cutlery's Sword of Samwise replica is being released in two versions. Both blade will measure 23.5" long, and the regular version is is listed at $169.99, $54 off MSRP, and the Museum Collection version will be finished and distressed as the film piece, and is listed at $269.99, $87 off the MSRP.

'BRAVEHEART' - SWORD OF WILLIAM WALLACE REPLICA Museum Replicas is releasing a licensed replica of the sword of William Wallace, from 'Braveheart'. This blade will measure 60.75" long and is priced at $289.99, saving you $35 off the MSRP, and should arrive next month.

ASSASSIN'S CREED KNIFE REPLICAS A few of the replicas from 'Assassin's Creed' are on back-order and will be restocked. The Assassin Extension Knife ($114.99), the Assassin Fighting Knife & Belt (124.99) and the Assassin Throwing Knife & Sheath ($41.99) are on their way, and should arrive in the 2nd Quarter of this year.

SW MIGHTY MUGGS RESTOCK We're restocking many of the waves of the Star Wars Mighty Muggs - check out the link for pre-orderable cases and singles!

SW VEHICLE FIGURE PACKS 2010 SERIES 2 CASE The new assortment is a "best of" case of sorts. It includes Anakin on Can-Cell, Crab Droid, Obi-Wan with Freeco Bike and Clone Trooper with BARC Speeder, and is listed at $69.99.

TF ANIMATED - DELUXE RESTOCK, ELECTROSTATIC SOUNDWAVE, FREEWAY JAZZ We've got restock pre-orders up for a number of TF Animated Deluxe figures, alongsde the two newest entries: Electrostatic Soundwave and Freeway Jazz are listed at $17.99 each. These figures are set to arrive sometime this month.

SPIDER-MAN CLASSICS 2010 SERIES 1 REVISION 3 - SET, SINGLE This first assortment of Spider-Man Classics in 2010 is available as a set of 8 figures for $109.99, and includes one each of Underwater Spider-Man, Red/Blue Spider-Man, Rocket Blast Spider-Man, Black-Suited Spider-Man with glider, Green Goblin, Red/Black Spider-Man, Iron Spider-Man and Black-Suited Spider-Man with webs. We've also got Rocket Blast Spider-Man available singly at $11.99.

SUPERHERO SQUAD MINI PLAYSET 2010 SERIES 01 Each of these three playsets includes two Superhero Squad figures so they're ready for action right out of the box. Choose from Super Hero City with Spidey & Iron Man, Danger Room with Wolverine & Sabretooth or Doom's Castle with Iron Man & Dr. Doom, each at $22.99.

IRON MAN 2 FIGURE SERIES 03 REVISION 2 CASE The newest Iron Man 2 Case Assortment to be listed includes two each of Iron Man Mark IV, Iron Man Mark VI Version 2, Iron Man Mark V Suitcase, and War Machine, with one each of Iron Man Mark VI Version 1, Inferno Mission Iron Man, Whiplash and Stealth Iron Man, and is listed at $99.99.

SHREK FOREVER AFTER 15" STATUE This 15" tall statue of Shrek and Donkey is the first piece from Kloroform and the first item from the upcoming 'Shrek Forever After' movie. We've got it listed at $209.99, saving you $40 off the MSRP.

------------
NEW ARRIVALS
------------

RETRO ACTION WORLD'S GREATEST DC SUPERHEROES SERIES 1 We've got a few cases and sets left from the Retro Action World's Greatest Superheroes Wave 1 online exclusive assortment. The set includes one each of Superman, Lex Luthor, Green Lantern Hal Jordan and Sinestro, and is priced at $79.99; the case assortment includes two of each and is listed at $149.99. We've also got singles remaining of Lex Luthor and Sinestro, at $20.99 each.

IRON MAN 2 - FIGURES, VEHICLES, MINIFIGURES, ROLE-PLAY The whole assortment of Iron Man 2 items is now available. We've got 3.75" figures in both movie and comic versions, 8" figures, Superhero Squad sets, role-play items, a sportscar for Tony Stark and even a 'Tony Starch' Mr. Potato Head. Take a look at the menus and mix and match your favorite items!

WWE ELITE FIGURES SERIES 02 - SET, SINGLES The second wave of Mattel's WWE Elite figures has reached our warehouse. This assortment includes Batista, Matt Hardy, R-Truth, Randy Orton, Ted DiBiase and Triple H, and you can pick from among the singles at $17.99 each, or you can pick up the whole case of 6 figures at $94.99, saving $13 off the single total.

NEW ARTWORK & GICLEES - HALO, SW, FUTURAMA We've received over 150 different giclees and other artwork pieces. From Star Wars to Halo, Futurama to Family Guy, we've got a little something for everyone - take a look at the link for more information.

HOT TOYS WATCHMEN COMEDIAN 1/6 SCALE FIGURE Hot Toys' 1/6 scale version of the Comedian from "Watchmen" has arrived. This figure comes loaded with detailed accessories as well as a face sculpt that shows the character well. We have the Comedian listed at $159.99, and he's ready to cause some trouble.

DISNEY LABEL DONALD DUCK TRANSFORMER After Mickey had a turn, Donald had to get his. This Disney Label TF transforms from a yellow and silver VW Beetle into a skateboarding Donald Duck mech, with Donald himself at the controls. This piece is listed at $49.99, and seems to be as popular as Mickey himself.

CLONE WARS GENERAL ANAKIN SKYWALKER 12" FIGURE This new 12" figure from Sideshow shows Anakin in his role as Clone Wars General. Clad in his dark armor, this version features over 30 points of articulation, and is listed at $87.99, saving you a couple of bucks off the MSRP.

GI JOE 25TH ANNIVERSARY VEHICLE SERIES 5 SINGLES We're all sold out of case assortments, but we've got singles remaining of the Ghost Hawk, the Arctic HISS, the Stinger Jeep and the Claw Glider & Flak Cannon set. These vehicle and driver sets are listed at $17.99 - $29.99 each.

DC UNIVERSE CLASSICS POWER GIRL A shipment of DCU Series 12 Power Girl figures has arrived. Originally part of a Wal-Mart exclusive wave, now everyone can add her to their collection, at $16.99.

CLASH OF THE TITANS FIGURE SET NECA's first assortment of 'Clash of the Titans' (2010) figures has arrived. This set includes both regular and battle-damaged ('dirty') versions of Persues as played by Sam Worthington, and we have the set priced at $29.99, saving you $5 off the MSRP.

ROBOT VINYL COLLECTION #2 - ZENTRAEDI TACTICAL BATTLEPOD The second release in Toynami's Robot Vinyl Collection line is the 1/100 scale Zentraedi Battlepod. This piece stands about 8.5" tall and has 9 points of articulation, including two rotating cannon joints. We have the Battlepod listed at $22.99, $2 less than the MSRP.

FUTURAMA FIGURE RESTOCK We've restocked Futurama waves 2, 4, 5, and 6 and have them priced at $23.99 - $24.99 per pair of figures, so if you missed out on Zapp Brannigan, Calculon, Amy Wong or Fry as Captain Yesterday, now is your chance to fill those holes in your collection.

AVATAR ANIMALS & VEHICLES We've received a restock of 'Avatar' animals and vehicles. We've got the AMP Suit, Direhorse, RDA Grinder, Scorpion Chopper, Thanator, Tsu'Tey's Banshee and the Viperwolf Attack set available, priced from $16.99 - $29.99 each; you can also choose the Na'Vi Creature Assortment Series 01 Case, with two each of Tsu'Tey's Banshee and Thanator, one Direhorse and three Viperwolf Attack sets, for $124.99.

ROCKMAN (MEGAMAN) KUBRICK SETS We've received two new Kubrick sets. The first contains Rockman (Megaman) and a translucent blue bearbrick with the Megaman head on his chest (the traditional 1-Up symbol), while the other contains Blues (Protoman) and a translucent red Bearbrick, with Protoman's head on his chest. Eahc set is ready to go at $37.99.

DOCTOR WHO 'END OF TIME' TIME SQUAD SET This set of cute minifigures includes the Tenth Doctor, a Cyberman, a Clockwork Man, a Weeping Angel, a Sontaran and an Ood, along with the pieces to assemble a seventh minifigure - the Master. You can pick up this set for $32.99.

DOCTOR WHO 'END OF TIME' FIGURE SET This set takes it's cue from the recent 'The End of Time' storyline and includes 5" figures of the Tenth Doctor, the Master, the Eleventh Doctor and the Narrator. We have the set of four listed at $59.99; this is a great way to pick up the final version of the Tenth Doctor and everyone involved in this great piece.

PERCY JACKSON FIGURES - 2" SET, 5" SET We've got the first waves of Percy Jackson 2" and 5" figures in stock. The 2" figure wave includes three two-packs - Poseidon with Fury, Medusa with Fury and Zeus with Hellhound, and is listed at $25.99. The 5" figure set includes Zeus and Medusa, and is priced at $24.99.

BigBadToyStore.com