New Book: Halloween In New York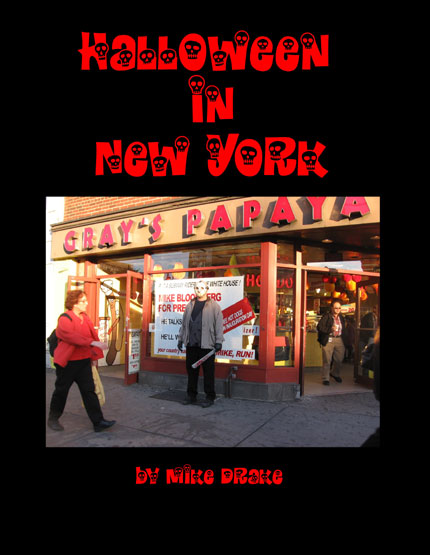 New Photo Book Details Halloween In New York

September 2009 - New York - Author and photojournalist Mike Drake is ready to release his new book after two years of hard work. "I've always loved Halloween," says Drake between bites from his Gray's Papaya hot dogs, "and Halloween is celebrated in New York like nowhere else. That's what I strive to illustrate with Halloween In New York!"

While growing up in nearby New Jersey he would often hear tales of the "wild" Halloween parade in New York. When he finally visited the parade in 1986, it cemented his love of New York and renewed his love of Halloween.

"When I was a young boy growing up in New Jersey, I would see Halloween parties on TV and in movies and they were always so wonderful, with people in elaborate costumes and amazing decorations," says Drake, "but then I got older and actually went to Halloween parties I discovered that reality didn't measure up. New York changed all that. Halloween in New York is better than the movies, better than what you see on television. Halloween in New York is raw, concentrated Halloween!"

When pressed as to why October 31st is so amazing in the Big Apple, Drake has a theory: Because of the concentration of people in film, televison, and theatrical work in NY, the city has an abundance of people skilled at executing elaborate costumes. Combine that with the literally thousands of artists and generally creative people living in the city and you have a recipe for magic.

It is exactly that magic Drake attempts to capture with his new book. Halloween In New York features his favourite photos culled from hundreds he shot over the past two Halloweens. "It wasn't easy picking the best," says Drake, "so I enlisted a few friends. By the time I was done editing I thought they would all be sick of looking at the pictures, but nearly everyone who helped out asked for a copy of their favourite photo."

When asked about his favorite photo in the book Drake responds that he has two: "The cover shot, of a guy dressed as Jason in front of Gray's Papaya is one of my favorites because it is so instantly recognizable as a new York scene, but I also love the last photo in the book, a young boy dressed as Frankenstein sitting on his Dad's shoulders, watching the parade go by. Halloween may seem to be about scary, spooky stuff, but that's just the surface, really it is about family and friends. Having fun and doing things together. What could be better than that?"

Halloween In New York is available at www.HaikuForRobotMinions.com and is will be available at Amazon.com and Target.com in the coming weeks.