bbi Presents Joanna Dark from 'Perfect Dark'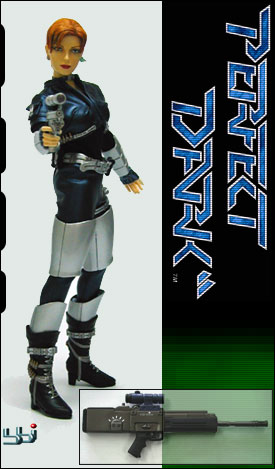 Premier action figure manufacturer bbi, introduces a sexy and beautiful action figure, Joanna Dark based on her likeness in the compelling action/adventure shooter video game, Perfect Dark from Rare Software for the Nintendo 64 system.
The fully articulated and poseable 12-inch collectible figure is a faithful reproduction of Joanna who comes complete with the weapons she "packs" in the game. 
Precision detail and quality make this character a "must have" for collectors.  The faithful recreation of the Joanna Dark character is available in 2 distinct looks - one figure is dressed in a body armor suit and the other is clad in a black leather jumpsuit - either way, this babe is ready for action!
Joanna Dark
Female special agent Joanna Dark is charged with the task of saving the world from the conspiratorial plans of a greedy corporation and an evil alien race. Ms. Dark has proven her skill as the finest agent from the Carrington Institute - no doubt about that.  She was nicknamed "Perfect" for her impeccable skill, intellect and quick physical prowess.
This 23 year-old operative is sent out in the year 2023 to save the world from the Sentient beings of Datadyne Corp who has finally met their match in Joanna Dark.
Available September 2001
Suggested Retail: $24.99 - 29.99
Perfect Dark and Rare trademarks & copyright 2000 Rare. Rareware logo is a trademark of Rare. Nintendo is a registered trademark of Nintendo America inc.