Street Fighter Zangief 1/4 Scale Statue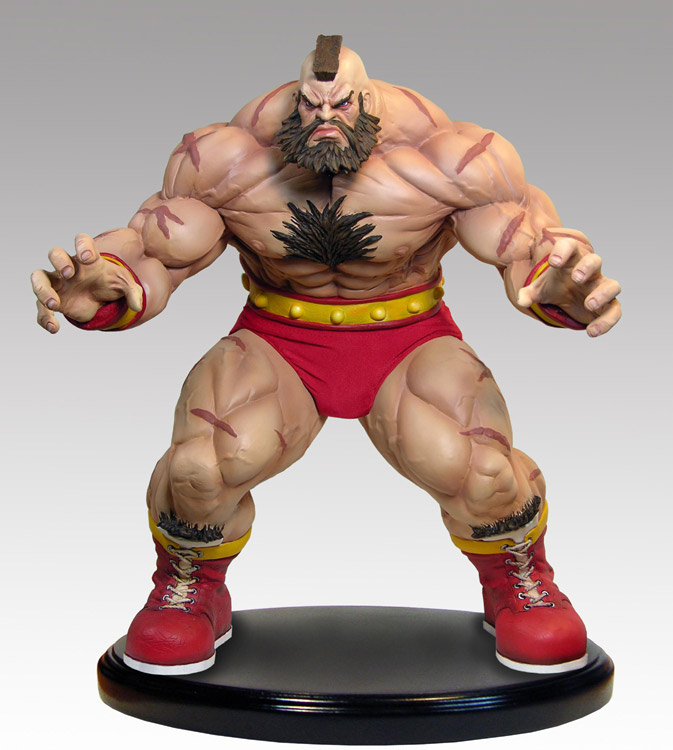 POP CULTURE SHOCK COLLECTIBLES ANNOUNCES STREET FIGHTER™ 'ZANGIEF' 1/4 SCALE STATUE

LOS ANGELES, CA - July 22nd, 2009 -- Pop Culture Shock Collectibles is proud to announce the ZANGIEF 1/4 scale statue based on Capcom®'s legendary property, "Street Fighter®".

This statue is 18" tall x 14" wide and will be limited to 300 pcs worldwide. They are scheduled to ship in December 2009 with an MSRP of $375.00.

It will be available for pre-order in the USA through Sideshow Collectibles during the San Diego Comic Con (check www.sideshowtoy.com for online availability), Diamond Distribution Previews as well as select specialty stores.

Also available exclusively on the SideshowToy.com website on August 6th at noon Pacific Time, is the exclusive Sideshow EX Mecha-Zangief featuring a metallic paint scheme.

About POP CULTURE SHOCK COLLECTIBLES
Pop Culture Shock Collectibles was founded in 2006 by Jerry Macaluso, the former owner of SOTA Toys, SOTA Sculpture and Design and Plastic Fantasy, to manufacture high-end resin collectibles.

For more on Pop Culture Shock Collectibles go to http://www.popcultureshocktoys.com.

ABOUT CAPCOM
Capcom is a leading worldwide developer, publisher and distributor of interactive entertainment. The company develops its products for all popular game systems, PC and wireless devices. Founded in 1983, the company has created world-renowned franchises including Resident Evil, Street Fighter, Mega Man, Devil May Cry, Onimusha, Lost Planet and Dead Rising. Headquartered in Osaka, Japan, the company maintains operations in the U.S., United Kingdom, Germany, Tokyo and Hong Kong. More information about Capcom and its products can be found on the company's web site at www.capcom.com.

Capcom, Lost Planet, Mega Man, Resident Evil, Onimusha, Devil May Cry and Dead Rising are either registered trademarks or trademarks of Capcom Co., Ltd., in the U.S. or other countries. Street Fighter is a registered trademark of Capcom U.S.A., Inc. All rights reserved. All other marks are the property of their respective owners.