Futurama Metal Collectibles Have Arrived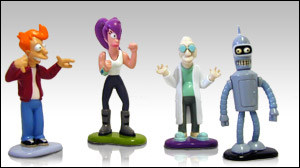 We just received the Official Futurama Metal Collectible pack. Included are die-cast metal figurines of Fry, Leela, Bender and Professor Hubert Farnsworth. As an added bonus, you get an annoying metal clicker. It works like a Snapple beverage cap, however it has a bell shape, so its highly amplified. I find it hilarious, the co-workers find it annoying. Apparently there is a variety of clickers that are randomly inserted in the packs.
The MSRP is $25.99, and if you don't have a Tower Records near you, you can get them on-line at TowerRecords.com
And coming soon, Moore Action Collectibles are creating 20 four-foot tall Bender statues to be used as displays in Tower's key stores. These figures are near life-sized and have incredible detail. Depending on customer demand, these may become available for purchase, but may have a price tag around $700.
We also received the Futurama Collect-O-Pak with all four action figures in one package. Check back here soon for those photos and review.