Ayrton Senna Fine Art Statue
Tokyo, Japan April 20th, 2009 - Kotobukiya - Plastic model kit, figure, and hobby-related product manufacturer and vendor Kotobukiya CO., LTD. announces the release of the legendary Formula One racer "Ayrton Senna," a three-time World Grand Champion under the supervision of the Ayrton Senna Foundation. To commemorate his 15th death anniversary, Kotobukiya CO., LTD. is celebrating his legacy by introducing a 3-D sculpture -- the finest statue of him to date. This will be the first time for Kotobukiya to release a statue from the sports genre.

About Ayrton Senna FINE ART STATUE
A collectible statue of the legendary Brazilian driver, "Ayrton Senna," who captured the hearts of Formula One worldwide fans between 1988-1994.

A product concept that aims to brings back memorial scenes through 3-D sculptures: his Truman years when he begin driving as a Formula One racer, his almighty McLaren days, and his Williams Renault days in 1994 when he truly became a legend.

The Senna Ayrton Foundation and Kotobukiya will be donating a portion of the revenue to poverty-fighting and child education charities.

Kotobukiya plans to release a minimum of one statue and one mini-figure on an annual basis.

The second series which will commemorate the 50th Anniversary since his birth, and will be released in March of 2010.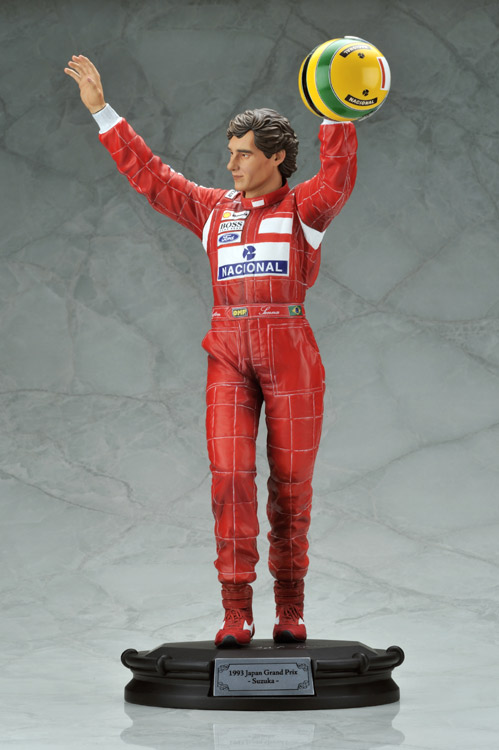 Product Specification

Series 1 takes the famous scene from the 1993 Japan Grand Prix at Suzuka Circuit, where Ayrton is answering to the praise of his fans, a deeply memorable event for enthusiasts.

Stands over 30cm tall (1/6 scale), and uses cold cast as the definitive material, allowing the sculptor to recapture the motif in hyper-detailed accuracy.

Senna's sign is printed on the base and package, creating a premium official look.

An "Official Ayrton Senna Foundation Proof of Authenticity Card" with hologram (teas scribos? - Germany) serial numbering and hologram sticker with the same serial number is included in each package to add value for high-end collectors.

The item will be officially announced at the Brazilian Toy Fair in April 2009. It will initially be released in Senna's home country of Brazil in July of 2009, and will be exclusively limited to 2500 pieces worldwide.

About Ayrton Senna Foundation

Summary of History: Founded in November of 1994 at Ayrton Senna's bequest. Portrait rights and brand are licensed out by the foundation. The foundation is directed by Ayrton's sister Viviane, donates revenue to charitable causes, and has helped over 8 million children since it's inception.

1. Goal of Foundation
Saving Street Children. To shield street children from gang influence, the foundation aims to provide job training and sports training through which the children may develop a sense of pride and dignity.

2. Main Description of Business
Foundation and management of soup factories, and the creation of Computer Skill Job Training programs.

The foundation supports youth who have committed crimes by helping them get back into the society through the activities such as: production of cabinets, leather furniture, and giving financial aid to automobile mechanic factories.

Reference - Ayrton Senna Foundation Official Website

3. About the Activities

Comment by Vivianne: "Some people may see our activities as a publicity stunt. Some people have said that we are using his name to do business. However, please look at the reality of this country (Brazil). The reality is children are starving daily on the streets and cannot even have dreams for the future. The only thing we can do is support the children by providing them with chance to attain a life with value. Without it they will loose all hope and dreams. Therefore I truly believe that my brother who is in heaven, will be proud of us for using his name."

The comment above is taken from "Ayrton Again -The Activities of Ayrton Senna Foundation" written by Machida Eime AS+F97 Sanmariono GP issue 5/16

Product Summary for Ayrton Senna Fine Art Statue
A sculpture that targets fans and collectors of Ayrton Senna and F1.
1/6 scale size (Stands over 30cm tall).
Replicates everything from the expression of Ayrton's face and hairstyle, to the details of the shape of his helmet. Even his pilot suit's inner support and sponsor stickers have been faithfully reproduced. Official reference photos are also included.
A credit-card-sized hologram card stamped (tesa scribos?-Germany) "Official Ayrton Senna Foundation Proof of Authenticity Card" is included.
Base comes with Ayrton Senna's sign and Hologram sticker
Limited to 2500 pieces world-wide
In Stores: August (Japan) SRP 21000yen
(World Wide) $ 200.00
For more information on the products please go to www.KotoUs.com.
To look for your nearest comic shop please go to www.COMICSHOPLOCATOR.com.

About Kotobukiya:
With over 50 years experience in the toy industry, Kotobukiya has grown into Japan's number one collector toy company, with a peerless reputation for quality and craftsmanship. Many international fans first learned of Kotobukiya from the famous line of Final Fantasy merchandise, and more recently, collectors have been thrilled by Kotobukiya's high end line of Star Wars and Batman ARTFX Statues. Kotobukiya is always striving to further improve the material, detail, and design of all products. Kotobukiya continues to attract the attention of not only top artistic talents, but also the favor of publishers and licensors who wish to work with only the best the toy and collectibles industry has to offer.