Hasbro and Toy Fair 2001: Fun and Entertainment for the Entire Family
PAWTUCKET, R.I.--(Business Wire)--Feb. 6, 2001--From the latest in robotics, to the hottest in today's music. From products for ``Tweens'' to classic toys and games, Hasbro, Inc. offers the most diverse line in the toy and game business. A walk through Hasbro's showroom reflects the best family entertainment products in the industry!
Highlights include:
Robots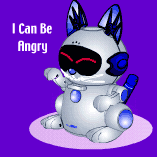 Robots are an emerging trend in the toy and game business. At the head of this trend, Hasbro's 2001 line has several ``robots'' and robot-themed products, including:
Battlebots: If you think boxing, hockey and wrestling have action, wait until you see Battlebots...the emerging sport of live robotic combat seen on Comedy Central and pay-per-view events! Imagine a face-off between Hollywood's best artists and NASA's greatest scientists...put them in a modernistic boxing ring (BattleBox) and you're just scratching the surface of what Battlebots is all about. On the show, Battlebots contestants design and build radio-controlled robots weighing up to 488 lbs. that employ an array of ``weaponry'' such as hammers, saws and spikes. This is the ultimate contest of engineering, strategy and creativity...the goal is survival! Tiger will be introducing a line of Battlebots robots that kids can build, customize and then put into action. Approximate retail: 14.99-29.99; Availability: Fall 2001. Look for coverage of Battlebots from the Comedy Central show battle it out at next week's Toy Fair.
Poo-chi was the #1 toy and #1 robotic dog in 2000 and Meow-Chi, the interactive cat joined the Robo-Chi family in the fall. This year, both will interact with a full line of fellow Robo-Chi offerings including:

Chipy-Chi: This interactive bird flaps his wings, bobs its head and sings over 40 songs!
Dino-Chi: T-Rex walks, stomps, rears his head and loves to roar! Pterodactyl, the wild-winged wonder walks, squawks, flaps his wings, turns his head and loves mischievous behavior!
Robo-Baby: Though it may look and feel robotic, it does everything a real baby does. Robo-Baby crawls, coos when it's happy, cries when it's not, eats, sleeps and even matures with time and care.
Petal-Chi flowers have an LED face that changes expression and responds when you talk and "water'' it. Petal-Chi plays songs, dances and sings when it is happy but, if you neglect it, it will wilt.

Approximate retail: $19.99-29.99; Availability: Spring-Fall 2001
Ottobot: Get ready for your new robotic friend from Tiger. Ottobot walks and reacts to light, sound and touch. He stands seven inches tall with a vocabulary of more than 300 words. He also has built-in games. The more you interact with Ottobot, the more he develops, so over time you and he will have a real relationship. Approximate retail: 29.99; Availability: Fall 2001
Mutsu the interactive fish comes with its very own aquatic home. Just add water and love! Watch Mutsu (means ``little fish'' in Japanese) evolve from a shy creature into a true companion through four stages of development. Approximate retail: $24.99; Availability: Summer 2001
i-CYBIE is the incredible cyber pet that is so lifelike, you'll feel guilty leaving this dog at home. i-CYBIE is fully articulated and features 16 separate motors. He can speak, bark, walk, lie down, shake your hand, perform tricks, follow hand claps, obey your voice and more. Approximate retail: $199.99; Availability: May 2001
Transformers: There are robots, and then there are Robots in Disguise. The original toy robot that took the world by storm in the '80s comes full circle with the return of Robots in Disguise. Hasbro is bringing back the "classic'' theme for Transformers right down to the car-to-robot transformation. Plus, in the fall, Fox Kids will begin airing all-new Transformers Robots In Disguise programming six days per week. Approximate retail: $4.99-29.99; Availability: August 2001.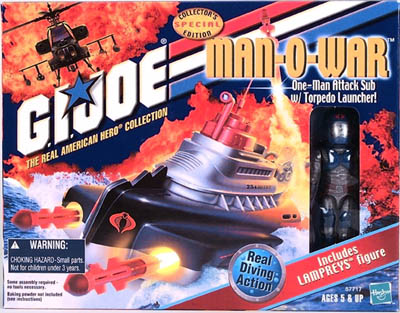 Classics
The G. I. JOE brand has been an American icon since its introduction in 1964 and the brand remains incredibly popular. With a well-earned reputation for authenticity and detail, the 2001 G. I. JOE collectors' line commemorates some of the greatest moments in U.S. military history including the 60th Anniversary of the attack on Pearl Harbor and the Vietnam Wall Memorial. Plus, a new generation of kids is discovering G.I.JOE figures, and Hasbro will unveil a new kids-focused line at Toy Fair.
Entertainment
While Hasbro focuses on its own core brands, the company will also feature products based on the hottest licensed entertainment properties, as well. This year's offerings include: Harry Potter, Jurassic Park III, Disney/Pixar's MONSTERS, INC. and Bob the Builder, which recently debuted on Nick Jr.
Harry Potter: Hasbro is thrilled to offer exciting games and toys based on the worldwide literary phenomenon, Harry Potter and the Sorcerer's Stone. The line includes electronic handheld games from Tiger such as the Harry Potter Book of Spells and Electronic Quidditch Game, Bertie Botts Every Flavor Beans from CAP CANDY and a trading card game from Wizards of the Coast that captures the favorite characters, spells and situations from the world of Harry Potter.
Jurassic Park III: One of the most eagerly-anticipated action movies of the year, Universal Pictures' and Amblin Entertainment's Jurassic Park III, the third installment in the studio's most successful film franchise ever is scheduled for release in theatres on July 18, 2001. Hasbro's toy line of feature-packed action figures, electronic games, life-like dinosaurs and effect-laden vehicles will drive the adventure home like never before. All-new RE-AK A-TAK special-effect features are built into each product such as the Electronic RE-AK A-TAK Animatronic Spinosaurus and Deluxe RE-AK A-TAK Biting Dinos.
MONSTERS, INC.: Hasbro unveils its new product line based on Disney/Pixar's CGI-animated film Monsters, Inc., which is due out in theaters in November. An all-star lineup of actors provides voices for the characters of Monsters, Inc. including Billy Crystal, John Goodman and Steve Buscemi. Hasbro's wide range of Monsters, Inc. toys and games will be the company's first broad-based line coming out of the long-term Hasbro/Disney corporate alliance announced last fall. The agreement gave Hasbro the rights to develop and market a wide range of toys and games associated with upcoming Disney-branded film properties. For example, one product is a game placed in "Monstropolis'' and based on The Game of Life.
Bob the Builder: Hasbro will unveil a new preschool product line based on HIT Entertainment's Bob the Builder, the latest preschool television phenomenon from the U.K., which debuted in the U.S. with record-setting ratings last month on Nickelodeon. Since its premiere in the U.K. on the BBC in April 1999, the Bob the Builder television series has become an international success and is currently sold in over 100 countries worldwide. Hasbro's extensive toy line includes a broad range of product, including plush, figures, vehicles, play sets, board games, puzzles and electronic novelty products under brands such as Playskool, Tiger, Milton Bradley and Parker Brothers.
From the cutting edge to the classics, Hasbro is the place for fun in 2001.