Clearance Sale at Big Bad Toy Store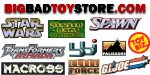 September 14, 2008 - (Sponsor Announcement) - Online retailer BigBadToyStore.com has several new items of interest to collectors:

Hi - Here is a quick update from http://www.bigbadtoystore.com about a variety of new arrivals, more new preorders, and another great clearance sale.

---------------
CLEARANCE SALE:
---------------

We've just put up a new sale featuring discounts of 20% to 70% off 25 different menus. Many Transformer Movie items are on sale as well as some GI Joe, Indiana Jones, Star Wars, and other Transformers. There are some great deals to be had so be sure to take a look.

-------------
NEW ARRIVALS:
-------------

BATMAN TDK: MOVIE MASTERS At long last these highly anticipated figures from Mattel have arrived. We have a variety of case packs in stock as well as singles and sets of The Joker and Batman in Dark Knight suit. All cases are priced at only $44.99 each - take a look at everything here

DC UNIVERSE - INFINITE HEROES 3-PACKS The first wave of DC's cool new 3.75" figures have just arrived. Each set is packed in an attractive display box and both sets are priced at $12.99 each. Sets include: Weather Wizard, Flash & Mirror Master as well as Jim Gordon with two Gotham SWAT Police.

HEROES SERIES 2 SET & SINGLES We've received a shipment of the new wave of Heroes figures. This wave has Matt Parkman with Molly, Mr. Linderman, Noah Bennet (aka HRG), Niki, Jessica, Claude and Invisible Claude. We've got the set listed at only $98.99 (saving $27 off MSRP), with the singles at $15.99 - $17.99 each. Check them out!

SPECTACULAR SPIDER-MAN CASE This case is a great catch-up wave. It includes two each of Spider-Man with Lamppost, Black Costume Spider-Man, SCUBA Spider-Man and Venom, with one each of translucent Iron Spider-Man, Iron Spider-Man, the Green Goblin and Carnage, and most of them have new paint decos. Check out the entire wave here at $129.99

TF UNIVERSE ULTRA STORMCLOUD AND CASE This homage to the G1 Air Strike Patrol member is a recolor of Universe Ultra Powerglide, done in the traditional Decepticon colors of purple, black and yellow. We have him listed individually for $34.99, or you can pick up the case assortment, consisting of Stormcloud and Silverbolt for only $56.99, saving $7.99 off the individual prices. We've also got
Silverbolt and more in stock, including Tread Bolt, Blaster, Heavy Load - take a look

GI JOE CASES AND SINGLES A whole bunch of GI Joe cases have come in, and we've got plenty of singles in addition to them. Wave 8 Revision 1 and Wave 4 Revision 5 are both here, along with singles like Tiger Force Flint, Spirit Iron Knife, Snake Eyes, Wild Bill, Major Bludd and more! Check these items and more out here

ASAJJ & DOOKU STATUE This new statue from Gentle Giant shows Count Dooku, warrior of the Dark Side with his apprentice and assistant Asajj Ventress. Both have their lightsabers ready, yet appear to be sharing a moment of some kind. Check out this great piece here - only $199.99, $30 off MSRP!

BBTS VINTAGE DEPARTMENT The Vintage Dept. listed nearly 1000 items in the past week or so - there is a huge variety of items from many properties. Take a look at both of the links below to see all they have been working on:
http://www.bigbadtoystore.com/bbts/list.aspx?list=1014
http://www.bigbadtoystore.com/bbts/productlist.aspx?browse=1&mode=vintage&list=recent

18" BEETLEJUICE This large scale version of Michael Keaton's "ghost with the most" has arrived, and looks great. His ball-jointed shoulders add nice articulation for posing, and key phrases from the film will only add to the fun. Get yourself 18 inches of Beetlejuice goodness - only $40.99!

TF ANIMATED WAVE 4 REVISION 2 CASE We've received our shipment of these, and they're ready to go at only $89.99. It includes two each of Elite Guard Bumblebee, Sentinel Prime and Swoop, with singles of Soundwave and Snarl. This is a great way to catch up on some of the more recent deluxe releases - check them out here

GI JOE VAMP WITH CLUTCH Our most recent shipment of GI Joe Vehicles has come in, and after pre-orders we've still got some Vamps left. This jeep comes with a driver (Clutch) and a double-barrelled cannon, so it's ready for trouble! We've got the Vamp listed at only $15.99 - take a peek

--------------
ARRIVING SOON:
--------------

X-WING FIGHTER CROSS SECTION 3-D VEHICLE MODEL KIT This kit from Kotobukiya has to be seen to be believed. The 1/35 scale snap-together model kit measures over 12.5" long and features over 100 removable parts so as to see the inner workings of the craft. It even comes with its own Yavin IV hangar display base! We have multiple pics on our site, so make sure to check this one out - only $199.99, saving $50 off MSRP and arriving in about a week.

E-HOBBY ENCORE OMEGA SUPREME REPAINT E-hobby's newest exclusive is Encore Omega Supreme, redecoed into a City Guardian robot. All but destroyed in the wars that ravaged Cybertron, these mighty robots were once the protectors of the cities of the planet, as seen in the G1 cartoon. With the new blue, grey and white recolor, this piece should look great next to Omega himself, or as part of any Transformer collection. Take a look - he's priced at $219.99 and arriving in roughly 10 days.

--------------
NEW PREORDERS:
--------------

STAR WARS - CLONE COMMANDERS ARTFX KOTO STATUES Kotobukiya has just announced the second round of cool new Clone Wars statues. This set is priced $30 under MSRP at $149.99 and includes Commander Gree, Captain Rex, and Commander Cody.

300 KING LEONIDAS PREMIUM FORMAT FIGURE This 21" tall Prestige Format figure of King Leonidas from Frnak Miller's "300" is and cast and sculpted to exacting detail, and then hand painted and finished with a cloth costume replica from the original piece. We've got this wonderful figure up for pre-order at only $259.99, saving you $15 off MSRP.

HALO 3 STATUES - CORTANA, MASTER CHIEF & ARBITER WETA Collectibles has announced two new statues from Halo 3. The Cortana statue stands 17.5" inches high, and shows the Cortana Hologram fully formed above a hand holding a communicator. The Master Chief and Arbiter statue will be 12.5" wide, 10" high, and 8" deep, with the two former enemies warily standing back-to-back. Each of these statues is priced at only $189.99 - a full $60 off the MSRP! Take a look at them here

SPORTSPICKS - NFL LEGENDS SERIES 5 We've got the whole line-up of NFL Legends Series 5 listed, and it's a really great wave. Included are Randall Cunningham, Joe Montana, Bart Starr, Barry Sanders, Steve Young, Archie Manning and Dan Marino; each figure is listed singly and priced at only $10.99

TFCC EXCLUSIVES We've got a number of the Transformers Collectors CLub items up for pre-order. Joining Nightbeat and the Seacons on our pre-order list are Skyfall, Landquake and Breakaway that come with the yearly club memberships, as well as Timelines Airazor and Timelines Astrotrain. Astrotrain comes with a quartet of minicons under his command, while Airazor is in her Pre-Beast Wars Cybertronian form. Check out all these great figures here

TF UNICRON REISSUE The tremendously popular Unicron figure from Transformers: Armada is back, and we've got it up for pre-order. This piece coombines all the best from the character's role on Armada with the original designs from "Transformers: The Movie" to make one heck of a centerpiece for any collection. Take a look at him here

NEW BOWEN BUSTS We've pre-listed the newest crop of announced Bowen busts. This round we've got Cloak and Dagger sharing a bust, alongside villains Man-Ape and Ringmaster. Each piece should have the same great quality as previous Bowen releases - check these and the rest of our Bowen busts out here

NEW BOWEN STATUES Along with the busts, we've also listed the new Bowen statues. Listings this month include Jean Grey in her Jim Lee era costume, the Zombie from Marvel's horror comics, X-Men villain Omega Red and alien invader the Super Skrull. These statues range from 12" - 15" tall, and each one will make a great addition to someone's collection. Take a look at these statues here

REVOLTECH REVOLUTION JAGI The disfigured enforcer from Hokuto no Ken ("Fist of the North Star") is finally getting his own Revoltech Revolution figure. This figure will come chock full of Revoltech articulation, and includes a removable helmet to cover his disfigured face, along with alternate hands and a pistol. Take a look at this new figure here

BigBadToyStore.com