Moore Update: Buffy 2, Kabuki and Witchblade!


Moore Action Collectibles and Moore Creations have updated RTM on some of their upcoming products.

The company has supplied new photos of the second Buffy the Vampire Slayer assortment, which features a new version of Buffy, along with Giles and Oz. These new images, as you can see below, show the figures will all there accessories and final articulation.

The Fiesta Giles variant is a Moore Action Collectibles, Inc. exclusive. Available only through MAC,, this interesting variation of the original Giles action figure is sporting his festive sombrero and serape from the Halloween episode of last season's Buffy the Vampire Slayer. He even comes with his nifty chainsaw! Retailing for $14.95, expect this guy to be snatched up in a hurry.
Moore Action Collectibles, Inc. provided Kabuki enthusiasts with action figures to set on their shelves, now Moore Creations, Inc. is following up with something to hang on the wall.the Kabuki mask. Whether an avid collector of the Kabuki comic and Kabuki character or not , you will love the look of this glazed ceramic wall hanging based on the creation of David Mack's ex-government assassin.
Retailing at $24.95 and releasing in March 2001, this mask will be the first in a series of collectible Kabuki masks, each individualized in design. Look for the Scarab mask coming next!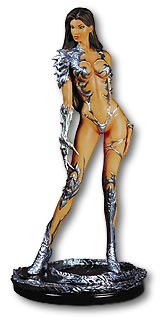 If you like Witchblade, you will fall in love with Moore Creations, Inc. latest statue, Witchblade II. Sculptor Clayburn S. Moore has joined forces with renowned Japanese sculptor Shungo Yasawa to create this 12-inch beautifully distinctive version of Witchblade. This character statue depicting an innocent looking Witchblade standing seductively on a fully sculpted base, will mesmerize even the most cynical on-looker.
Add Witchblade II to complete your Witchblade collection in March 2001 for $149.95.
In related news, Moore Action Collectibles, Inc. is hard at work planning the upcoming Angel action figure line based on Twentieth Century Fox's hit television series of the same name. Since the company first announced that they had obtained the Angel license, fans have been chomping at the bit to find out which characters will be included in the action figure line. Now it can be told. The first series will include the handsome, soul-bearing vampire, Angel, his cunning assistant, Cordelia, and the ultimate bad girl we love to hate, Faith.
MAC's project manager, Aaron Ethridge, worked closely with Fox to determine which characters would be used to comprise the first Angel action figure set.
"After much consideration, we mutually decided to go with the characters that made the most sense as action figures," says Ethridge.
The series is scheduled to release mid-2001. Until then, all you Angel fans will just have to make due with the Victorian Angel Bust and ornaments, which Moore will be releasing January 2001.
[Posted 12/04/2000]