Clearance Sale at Big Bad Toy Store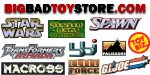 March 24, 2008 - (Sponsor Announcement) - Online retailer BigBadToyStore.com has several new items of interest to collectors:

Hi - Here is a quick update from http://www.bigbadtoystore.com about more exciting new preorders, a new clearance sale, and a variety of new
arrivals:

---------------
CLEARANCE SALE:
---------------

We've cut prices on 200 older and overstocked items, including a variety of the 2008 re-release Star Wars figures, Transformers Screen Battles, Spider-Man, Anime, Mecha, McFarlane, Marvel, Imports & More. There are two new sale menus - each filled with a variety of great deals: List #1 & List #2

--------------
NEW PREORDERS:
--------------

BBTS EXCLUSIVE - HALO 3 - VIOLET CQB SPARTAN: We are happy to announce our first ever McFarlane Exclusive - the Halo 3 Violet CQB Spartan figure. This exclusive is only available here and is limited to 3,000 pieces. The figure is available for $13.99, or if you buy it as part of the Series 3 set - you can get each of the 8 regular figures plus our exclusive for $93.99 (which is only $10.44 per figure) Wave 3 images will be listed later today, and our exclusive should have an image in the next week or so.

TRANSFORMERS ANIMATED: Hasbro's new line of Transformers will be arriving this June! The new figures do a great job of capturing the look from the show (which is running now - 10:30 AM Saturday mornings on Cartoon Network) We've just listed the Deluxe: Prime, Bumblebee, Prowl, Lockdown; Voyager: Megatron, Starscream, Bulkhead; and the DVD Boxed Set of Prime vs Megatron - check out all the listings

ALIEN STATUES: Sideshow will be importing three very cool statues made by Fewture, a Japanese company. The statues include: Alien Newborn, Alien Warrior, and the very cool Alien Pile statue.

HALO 3 - LEGENDARY COLLECTION STATUES: McFarlane will be releasing nonarticulated PVC Statues in the 7"-9" range for Halo. This set of 3 statues features Master Chief, Brute Chieftan, and Arbiter at $59.99 for the full set.

BATTLESTAR GALACTICA - CYLON RAIDER SCAR STATUE: This exclusive statue is limited to only 480 pieces and has just been listed at $149.99. The statue has a variety of battle damaged markings and measures about 11"

SIDESHOW - PREMIUM FORMAT THOR: Another extremely detailed high quality piece from Sideshow. Thor stands in 1/4 scale format and features a real cloth outfit and polystone sculpting - up for preorder now at $309.99

ANIME GIRLS: We've listed a variety of beauties from properties such as: Ikki Tousen, Satsuriko no Jango, Mahou Shoujo, Demonbane, Black Bible, Please Teacher, Tandem Twin and more. The easiest way to view all these ladies will be to scroll through the list of 75 newest preorders

THE GODFATHER - 12" FIGURE: McFarlane will be releasing a larger version of their very popular Godfather figure. Preorders are now open at $29.99

DEAD OR ALIVE: Koto brings us another Xtreme Beach Volleyball figure - Hitomi sits atop an killer whale style inflated beach float. She comes with several outfits and is up for preorder at $64.99

KOTO'S MSG ROBOT ACCESSORIES: A variety of Chain Bases and also some Trailer Unit Cars have just been added. These are great ways to display mechas in the 1/144 to 1/100 scale. Take a look at all the inexpensive add-ons

UPPER DECK - PRO SHOTS STATUES: In addition to the Michael Jordan & Tiger Woods action figures, U.D. will be releasing 18" statue versions as well. We have both of the Ultimate Collection statues up for preorder now at $149.99 each

SHUNYA YAMASHITA: Two new Fine Art busts from Koto have just been listed. The Shii and Angela busts are $44.99 each

MANY MORE PREORDERS: Many other items have been listed including: Adult Swim, Martian Successor Nadesico, Dragonball, Death Note, Star Wars Padme vs Nexu, Cthulhu, LOTR Classics Busts, Madman, Range Murata, Super Robot Wars, Simpsons, Futurama and more - check out the most recent items

--------------
ARRIVING SOON: These items are in transit and will arrive shortly:
--------------

-- TF ENCORE - EXCLUSIVE GREEN RATCHET: This limited edition mail-away exclusive features the reissue Ratchet mold and TF Movie Ratchet color scheme - arriving in early april at $149.99

-- STAR WARS 2008: The Wave 2 Internet Only case features a ton of army-building figures as well as a few examples of very cool regular characters. Preorders are listed at $85.99 and these should be here in a few days.

-- TRANSFORMERS MOVIE PREMIUM: Both the voyager and deluxe class Premium figures are in transit and should arrive within a week.

-- STAR WARS TITANIUM WAVE 3: Yet another cool wave of new Titanium figures is on the way - check out the set of 6

----------------------------------
BBTS VINTAGE DEPARTMENT IS BUYING:
----------------------------------

Our Vintage Department is looking for a variety of vintage items, as well as collections of sealed retail items:

VINTAGE ITEMS: We are mainly looking for the following lines in fairly good shape and with most weapons/accessories: G1 Transformers, 1982 to 1986 GI Joe figures & vehicles, vintage Star Wars figures & vehicles, Masters of the Universe, G2 Transformers, and basically any packaged Transformers from Beast Wars on, especially Alternators & Reissues. Please email: vintage@bigbadtoystore.com if you have something you'd like to sell for cash or BBTS Store credit.

RETAIL ITEMS: We are looking for a wide variety of packaged items from recent years, or from the 90's and early 00's. Anything related to comics, TV, Movies, Sci-Fi, Fantasy, Entertainment, or Cartoons generally works out well. We buy collections of nearly any size, from 1 small box of items, to warehouse close-outs, so please email: vintage@bigbadtoystore.com if you have something you'd like to sell for cash or BBTS Store credit.

-------------
NEW ARRIVALS:
-------------

REVOLTECH STARSCREAM & RODIMUS: The two latest TF's to get the Revoltech treatment have just arrived. Each is priced at $24.99 and Kaiyodo has again done a nice job with the figures.

METAL GEAR SOLID: The full set of 5 MGS figures is now in stock for $84.99. The distributor of this item has already sold out of several figures, so once these sets are gone, we likely wont' be able to get anymore. Take a look at these nifty figures

IRON MAN MOVIE FIGURES: The first wave of new figures & toys has just arrived. Sets of 5 figures are in stock now at $59.99 and we also have some individual figure listings. Hasbro has done a nice job with this line, take a look at the full selection

NINTENDO ACTION FIGURES: Master Replicas recently started distributing a variety of cool Nintendo figures and collectibles. The first arrivals are 2" to 4" pvc figures and mini figures with collector tins

THE DARK CRYSTAL: Mindstyle has just released two awesome new statues, the Landstrider and uRac are each highly detailed, and they come packaged in a truly impressive collector's box. They are both quite limited so be sure not to miss out on them

REVOLTECH: The new Black Ox and J-9 Griffon Aqua Unit are now both in stock at $19.99 each.

MORE NEW ARRIVALS: There are a variety of other items that have just arrived - take a look at the full list

Thanks for your interest in www.bigbadtoystore.com and be sure to take a look through our sale menus.

BigBadToyStore.com