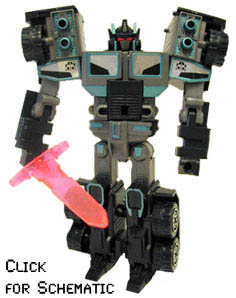 Optimus Prime, Black Convoy
Straight from Japan comes this new line of Transformers. The first one we had to get our hands on was the Black Convoy Optimus Prime. With a new color scheme and full articulation, the Takara company has produced a beautiful rebirth of Prime.
This one was ordered directly from Michigan's WizzyWig.com who had suprisingly fast delivery. We put in the order Wednesday, and it arrived today by noon.
Take a look at the new articulation and amazing detail put into this new gem. Not to mention the individually firing weapons. Click around on the schematic below.
But be warned, the price can get you... these are not regularly available in the U.S., so you'll have to go throw a specialty store, or Japan (such as HLJ.com), where the shipping is more and longer.